Face2Face Befriending is a peer support service offering families in Sussex support around the time of diagnosis or new challenges.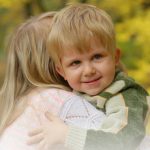 The project is delivered by a team of volunteers, all parents of children with additional needs, who receive intensive training and ongoing supervision.
Initially the coordinator sets up a home visit and parents are then matched with a befriender. Face2Face can support parents flexibly for up to 6 months. This might range from weekly to less frequent visits or just keeping in touch via text and email.
When my son, Billy, 6, was diagnosed with autism my first thoughts were how will I cope, how will I stay strong, how am I going to do this? My befriender was there for me as another mother who had already been on this journey and to let me know it would be alright, I would cope, and there was light at the end of the tunnel.  Without her my son's world could have been a very different place. Because of her, we face the future together strong and with hope.
For more information contact Amanda Mortensen at amandam@amazesussex.org.uk or on 07983598711.
Face2Face support groups
As well as one to one support, Face2Face also runs groups. These include:
a dads group (monthly on the last Thursday of the month)
a club for under 8s with autism or going through assessments (on the second Saturday of the month)
a breakfast club once a month on varying days and at Al Campo Lounge (contact: louise@amazesussex.org.uk )
We also support a PRESENS (preschool special educational support service) group for under 5s every term-time Monday.
Visit our parent support groups page for more information about groups for children and young people with SEND and their families.
Sign up to our newsletter