Many parents find that joining a parent-to-parent support group is a life-saver, especially in the early days when your child has just been diagnosed.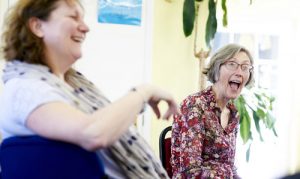 There are groups for parents of any child with additional needs or groups for parents of children with a specific condition or disability such as autism or Down's syndrome. There are also groups that are run by and for particular members of the community.
You can get details of all your local parent carer support groups on your Local Offer or Family Information Service or Community Directory.
In Brighton & Hove, Amaze runs four parent support groups as part of its Face 2 Face project. Find out more about Face 2 Face's Dads Group, Breakfast Club, Autism group and Presens group here. Brighton and Hove's Inclusion Support Service also runs regular coffee mornings for parents of children with autism.
In East Sussex, CLASS runs regular coffee and chat sessions for parents of kids with additional needs across the region. Find out about upcoming 'coffee and chat' sessions in East Sussex on ESCIS events listing or on ISEND's Facebook page.
You local parent carer forum may also hold details of support groups or run their own groups or events where parent carers can get together to find out about specific topics or just have a cuppa.  For example, Brighton and Hove's Parent Carers' Council (PaCC) runs regular coffee mornings in specific parts of the city. Find out more from:
It's useful for a parent to meet another parent who's got a child that's a bit further down the line.
Sign up to our newsletter