Join an Amaze running team and make your race really count for local families with disabled children and young people.
Amaze has charity places in the Brighton Marathon and Brighton Marathon 10K in April, The Brighton Half Marathon in February and the Brighton 10K in November.
You can run for Amaze if you have your own place or you can take an Amaze charity place.
Why run for Amaze?
Running for Amaze means all the effort you put into training and raising money stays in the local area and makes a real difference to families with disabled children and young people.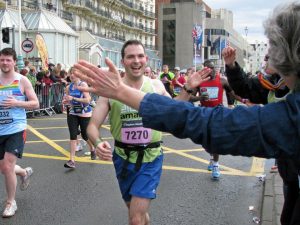 Amaze sets achievable fundraising targets in keeping with other charities, as we have to pay for our limited places. It is rare that runners don't reach them. There are no set targets for own place runners and we always encourage runners to get their own place if possible. We will provide you with fundraising support and materials and, of course, your Amaze running vest.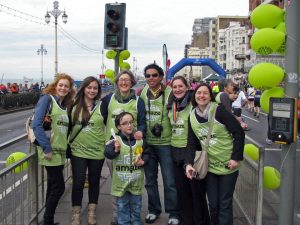 We will be with you every step of the way, including on the day itself, when staff, volunteers, friends and family join Amaze cheering points.
I just wanted to say that the Amaze cheering team on the day of the marathon were brilliant. I've run for a couple of charities in the past and never had such good support, as I got from your charity.
Contact the fundraising team
Call Jhuma on 01273 234014 for more details, or email fundraising@amazesussex.org.uk. We'll be pleased to answer any questions and send you a running pack.
Read about some of our fundraising heroes
Please spread the word about Amaze and help us grow our running teams!
---

Sign up to our newsletter