There are lots of other young people out there with additional needs. Some young people like to write blogs or record videos about their lives.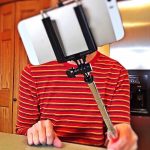 If you're feeling lonely or scared, reading a blog (or watching a vlog) by someone like you could help you feel less alone, or get ideas on how to cope.
Blogs and vlogs can be good ways to find other young people to talk to about how you feel, too.
Be careful not to tell people personal information about yourself like your last name, phone number, or where you live. The charity SafetyNet has some top tips for staying safe online.
We've found some blogs and vlogs by young people with additional needs to get you started.
These aren't made by or for Amaze, and we might not agree with everything they say. If you aren't sure if a blog or vlog is suitable for you, ask your parent carer or another trusted adult to check it first.
If someone is going through a bad time they might say things that are upsetting or scary. If you're worried or upset by what they say, make sure to tell someone like a parent carer, or another trusted adult.
If you know any good blogs or vlogs by young people with additional needs that aren't on this page, please let us know! Email rose@amazesussex.org.uk with a link to the blog and we'll consider adding it to the page.
Sign up to our newsletter