peer support activity groups
Our Amazing Futures peer support activity groups offer a chance to have fun and make friends. You can also talk to our peer supporters about what's going on with you.
The groups have a selection of games and activities, as well as trained peer support volunteers aged 18-25 for you to talk to. 
Coming up:
Download a timetable of upcoming groups and activities here:
Brighton & Hove: Amazing Futures Brighton & Hove September to December timetable 2023  [pdf 222kb]
East Sussex: Amazing Futures East Sussex November to December timetable 2023 [pdf 166kb]
Our groups: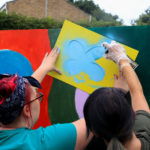 Our fun, friendly groups are for young people aged 14 to 25 with SEND or additional needs of any kind. For example autism, ADHD, learning disabilities, mental health difficulties, or physical disabilities.
Our groups offer a space to be unapologetically you. Have fun, make new friends, and try different activities – with games, art, and food always on offer!
Need someone to talk to? Our volunteer peer supporters (aged 18-25) are there to listen, talk, and support you in a way that works for you.
---
You can also get involved with our youth voice work, get wellbeing support, or get involved in the Amazine, our e-zine, made by and for young people with SEND. In East Sussex, we have an active WhatsApp group too, for keeping in touch between groups.
---
Sign up to our newsletter