The Compass Card is a leisure discount card for 0 to 25 year olds with significant special educational needs or disabilities in Brighton and Hove and West Sussex.
The Compass Card during coronavirus lockdown
The Compass Team is working from home, but still fully operational. We're processing Compass Registration Forms and sending out new cards and encourage anyone who needs to renew their card or apply for the first time to get in touch. You can print out your own registration form on the Compass Card website, or email the team and we'll get one in the post to you.
While many of our Compass Card Partner venues are closed, we're inspiring Compass Card families, parent carers and young people with a series of three 'Leisure, Learning and Lock-down' guides. And we're posting ideas and information on leisure on the Amaze Compass Card Facebook page.
How to contact/access:
email compass@amazesussex.org.uk
website www.compasscard.org.uk
Facebook https://www.facebook.com/AmazeCompassCard/
For information about any of our other services during the pandemic please see our Coronavirus statement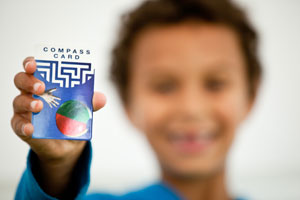 You can use the Compass Card at loads of fun places in Brighton & Hove and West Sussex. To get a Compass Card, you need to fill in a 'Compass Registration Form'. Find out more about the Compass Card and how you register.
If you live or go to school in East Sussex, you can get an East Sussex County Council i-go card. Find out more about the i-go card for East Sussex.
Sign up to our newsletter