The Compass Card is a leisure discount card for 0 to 25 year olds with special educational needs or disabilities in Brighton & Hove.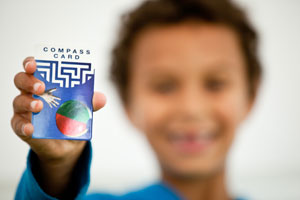 You can use the Compass Card at loads of fun places across Sussex including swimming pools, leisure centres, cinemas, bowling, theatres, escape rooms, museums and more. Check out the types of offers available by visiting our Compass Card website offers page or you can download the Compass Card app to your phone via Google Play or the App Store.
To get a Compass Card, you need to fill in a 'Compass Registration Form'. Find out more about the Compass Card and how you register.
Make sure you keep up to date with us by following us on Facebook, Twitter and Instagram and, if you checked the box to receive our e-newsletter when you registered, then you will find Compass news dropping into your mailbox every month.
If you live or go to school in East Sussex, you can get an East Sussex County Council i-go card that offers similar discounts and benefits. Find out more about the i-go card for East Sussex.
Sign up to our newsletter