Transition planning helps to support young people with special educational needs and disabilities (SEND) and their families through the process of planning for adulthood. All young people with SEND should get support from school in preparing for adulthood but there should be an extra focus on this if they have an Education, Health and Care Plan.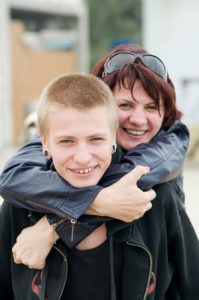 Transition planning begins from about age 14 or when your child is in Yr 9. The length of time it takes will depend on each young person. Good transition planning should ensure:
Your son/daughter is involved in planning for their future and the decisions made about them
You as their parent are involved and get the information you need to help your son/daughter make choices
You know the key people who can help you, for example LDD (Learning Difficulties and Disabilities) Advisers in Brighton & Hove or the Transitions Service in East Sussex
Your son/daughter can successfully go onto college, training, work or day services after school
Your son/daughter continues to receive the support they need as an adult
When we spoke to the LDD Adviser, right from the start she was talking to Beth in language she understood. I instantly knew that I had met someone who knew how to deal with special needs children.
'Through the Next Maze', Amaze's handbook for parents of teenagers with SEND (aged 14+) in Brighton & Hove, contains a detailed chapter all about transition planning in Year 9 called 'Planning for your child's future' which you can download below. Much of the information will be just as useful to families in East Sussex, though information about specific professionals or services may differ depending on where you live.
Download Through the Next Maze 2016 (Brighton & Hove). Chapter 1. Planning for your child's future [pdf 290kb]
Or visit East Sussex Local Offer information on preparing for adult life.
We also produce a chapter that gives you lots of advice and tips on involving your child in the process of planning for their adulthood. This is relevant for families everywhere.
Download Through the Next Maze 2016. Chapter 2. Involving your child in decisions about their lives [pdf 194kb]
If you have any problems downloading these documents, call our helpline on 01273 772289 and we'll can send you a copy.
You might also like to read a very useful brochure from the Foundation for People with Learning Disabilities, called Children and Young People with Complex Health Needs – A one stop guide
If you would like some support with planning for your child's future, call the Amaze helpline.
Sign up to our newsletter