social lives and relationships
For teenagers with special educational needs and disabilities, making friends and having relationships can be trickier than for other teenagers.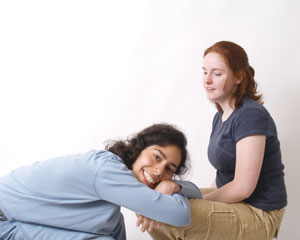 This might be because of communication or learning difficulties, mobility issues, or not being able to travel independently. Plus certain experiences at school or college can affect young people's access to friends and leisure outside school. National research has found that many young disabled people experience isolation, loneliness and exclusion.
We might have to do a lot to support our children's social life and help them meet new people or maintain friendships. Sometimes we even have to share our friends with our children because of the difficulties they face making their own friendships. But however difficult it might seem to manage, experience tells us that it's always worth making the effort to help our young people develop and maintain friendships as they can provide more support and advice than whole teams of professionals.
You can read lots of advice and tips about friendships and relationships in Chapter 4  of our Through the Next Maze handbook for families in Brighton & Hove. Download the chapter here:
Through the Next Maze 2016 – Chapter 4 – Social lives and relationships [pdf 156kb]
It offers advice about where your child might make and meet friends; what happens in puberty and how to explain the changes to your child; sexual relationships and how to talk to your child about sex and also how to protect your child from sexual abuse. Most of the information included in this chapter is just as relevant for families of young people in East Sussex – only the information about specific groups and activities differs. Visit ESCIS or 1Space to find out about social groups and activities for young people with SEND in East Sussex or visit East Sussex Local Offer information on preparing for adult life.
You can also find out Amaze's peer support and social groups for young people with additional needs.
Before I started playing cricket my life was boring and I did not have many friends. Also I got bullied when I was at school. Now I have got lots of friends who will all stay with me for life and I meet more friends all the time.
Sign up to our newsletter