Having a child with additional needs puts extra stresses and strains on relationships and family life, and getting a short break can make a huge difference to your ability to cope.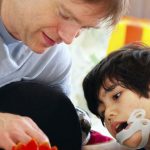 Allowing someone you trust to look after your child while you have a breather has other benefits too. It can be a great confidence booster for them and for you as a carer. You find out that it is possible to let your child go, and your child finds out that he or she can enjoy life away from the family. They have a change to learn to adapt to new situations and experiences much better than they might have done otherwise.
There are some short breaks that are available to any child or young person with an identified disability or learning difficulty – these might include holiday and after school clubs, accessible clubs or paid childcare.
More intensive, longer-stay care such as overnight respite in a residential home will only be available for more severely disabled children and young people, and you will need to be assessed by social workers from disabled children's services in order to qualify. Read more about social care assessments of need
For more tips on getting a break, download our fact sheet on Short breaks and respite [pdf 613kb]
It's a big thing at any time, isn't it, putting your child in someone else's care… You feel better about having admitted that things are too much at times. I phoned up Susie's link family and I said, 'Look, we really are having a crisis, would you be able to have her for a whole day', and they said 'Yes, fine, we'll have her'. It was so good because then she knew how I felt.
Sign up to our newsletter