All children learn at different rates. Children who have a lot more difficulty learning than most kids their age can be said to have SEND which stands for special educational needs and/or disabilities.
What is SEND?
Children and young people can be said to have a special educational need or disability (SEND) if they need education provision that is "additional to or different from" what is normally provided for people their age in mainstream schools and early years settings. This could be because they have a learning difficulty, a physical/sensory disability, difficulty with communication or with their social, emotional or mental health.
Some children's special educational needs are clear from an early age; for others their difficulties become obvious when things don't go as expected at school. For a few their needs arise suddenly, perhaps after an accident, or emerge at secondary school or even at college.
There are some children with medical conditions who don't have SEN but do need extra support to be able to attend school and be safe and well while they are there (read more about support for children with medical conditions in School-aged children) And there are some disabled children who don't have SEN but who may still need some reasonable adjustments, such as access arrangements, that the school has a duty to provide under the Equality Act – see Education complaints.
If you feel that your child has difficulties not fully recognised by their school or pre-school, or that they aren't getting the help they need, speak to your child's teacher, the special educational needs coordinator (SENCO) or the head teacher.
What the law says about SEND
The Special Educational Needs and Disability (SEND) Code of Practice 2014 is statutory guidance which sets out how the needs of children with SEND should be met in pre-schools, schools and colleges. In a nutshell, the Code says that children and young people have a right to have their needs assessed and get support to meet those needs. This support does not have to be everything a parent might wish for, but the law says schools and colleges must use their "best endeavours" to meet the special educational needs of their pupils. The Code also says that children should get enough help to make progress that means they can achieve their best, become confident individuals and ultimately make a successful transition into adult life. If they don't make progress, they should get a higher level of help. Another thing the law and SEND Code spell out really clearly is that parents, children and young people should be closely involved at every stage. Teachers and other professionals know that this is important but it helps to have the law say it too.
Many more resources have been moved to mainstream schools over recent years so that children can get extra support from within their local school, or from services that these schools can easily access (e.g. Brighton & Hove Inclusion Support Service or East Sussex's ISEND Service).
Advice and support with SEND
Amaze is the SEND Information Advice and Support Service (IASS) for Brighton and Hove and East Sussex. Through this website, our helpline our publications and courses, we can offer you help and advice with any issue relating to a child or young person's special educational needs and/or disabilities. Read
more about the SENDIASS service
or call our helpline on 01273 772289. For more information on SEND in your area, you should also visit your local council's Local Offer. Every local authority has to publish online information about all the services and support they expect to be available in their area for children and young people with SEN and disabilities.
Visit Brighton & Hove's Local Offer
Extra help in class through differentiation
Children make progress at different rates and have different ways in which they learn best. Teachers are expected to think about each child individually and draw on different materials and activities to suit each child; that's what is known as 'quality-first' teaching with differentiation for individual children. Many children will get some extra help at times (e.g. a reading recovery group, a spelling booster programme) without being described as having special educational needs. If the school or pre-school is thinking about whether your child needs more than this, they should involve you from the start. And they must tell you if they have decided that your child has SEN, i.e. that they should give them more or different help from the varied range of help they offer all children.
SEN support
This is the first level of help once your child's pre-school or class teacher or tutor has identified that they have special educational needs. Together with the SENCO they should consult you, gather information and find ways in which they can help. They should follow a cycle of action:
Assess – analyse what the child's needs are.
Plan – work out what support to offer and how. This could be a special programme of work, particular equipment, time with a teaching assistant or teacher individually or in a group. The planning should include the outcomes they expect to see from this support.
Do – the pre-school staff, class teacher or subject teachers put the plan into action, supported by the SENCO.
Review – look at whether the support is working. Revise the plan in consultation with parents and the child.
The idea is that this cycle keeps happening for as long as the child needs SEN Support and if they do not make the expected progress, things should intensify, perhaps bringing in expert advice to help assess in more detail or planning more or different support. As the parent you should be involved at every stage. A record of the support to be given and the outcomes that support is meant to achieve should be shared with you. There are no specific rules about how a pre-school or school should write this record, but at school you must also get an annual report on your child and a face to face meeting at least three times a year.
Children can get a significant level of extra help on SEN Support including one to one help for several hours each week if that's what helps them best.  Only a small minority of children move to the next stage: being assessed to see if they need an EHC plan.
Amaze produces fact sheets all about SEN Support in school
SEN support in school – Brighton & Hove [pdf 680kb]
EHC assessments and plans
If your child has been receiving SEN support and isn't making enough progress, the local authority (LA) can be asked to carry out a statutory Education, Health and Care (EHC) needs assessment. This request can come from you as parent, your child if they are 16 plus, the pre-school, school or college, or another professional e.g. from health.
Next, the LA considers whether your child needs an EHC assessment. If appropriate, they will go ahead, involving you, your child and a range of professionals.
On the basis of this assessment the LA decides whether your child needs an Education, Health and Care Plan (EHCP). The EHCP is centred on their educational needs but also includes their health and social care needs. It sets out the help they should get to meet these needs and the outcomes (long and short term) that this help should lead to for the individual.
You can read much more detailed information about Education, Health and Care Plans in our section on EHC needs assessments and plans. 
I was worried about my son who can't walk or talk being in a class of 30, and yet, with extra help, it has worked out wonderfully.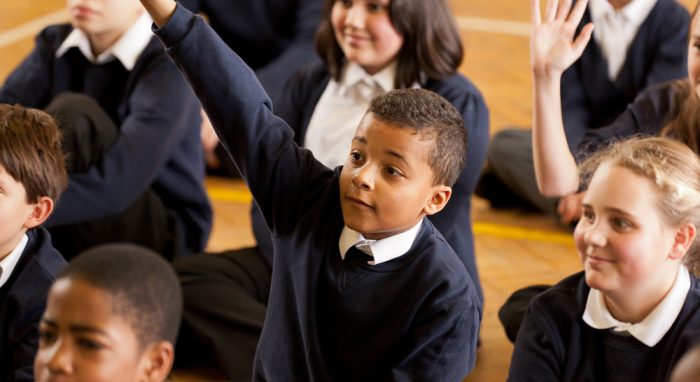 Sign up to our newsletter