Coronavirus social care and safety
Coronavirus - social care and safety
The unusual circumstances of the coronavirus pandemic have put every family under extra pressure. This section covers how social care services and direct payments are operating at the moment, as well as advice and information on family safety and behaviour issues, including updated information about the the current coronavirus restrictions which have now mostly ended.
Support from social care services
Social care duties and the law
Early in the Covid-19 crisis the Coronavirus Act created the power for local authorities to relax some of the rules around social care.  In practice this power was not used locally so the usual law and rights around social care still apply, although social care services are under additional pressure. We are still giving information about this power here in case a second wave of the virus changes the local position dramatically.
A local authority can only make use of this relaxation of the rules if that LA is so short of staff or overwhelmed by demand that complying with all their usual duties under The Care Act is "no longer reasonably practicable" and "to continue to try to do so is likely to result in urgent or acute needs not being met, potentially risking life". The duties that could then be relaxed mostly apply to adults and carers not to children. If adult social care activate this permission to relax some Care Act duties they will still have to make sure that the care people receive is enough to prevent a breach of their Human Rights. This does mean that existing care packages for over 18s could be changed or reduced, although the government guidance is clear that the person concerned (and carers) should be consulted as part of any decision to revise a care package.
The government has made it clear that this is not intended to mean people who need care stop getting it. They expect all LAs to keep doing the right thing. But it does recognise the pressure that the coronavirus is putting on social care and allows for LAs to focus on the most urgent needs and most vulnerable people if things get really tough.
Brighton and Hove Specialist community disability service
Specialist Community Disability Service (SCDS) staff are working from home but trying to provide a normal service as far as possible. Read more about SEN interim arrangements in Brighton & Hove here The left hand menu has a link about SCDS.
If you have an allocated social worker they will contact you by phone to provide updates and to check in with how you and your family are doing. If you don't have named worker the Intake duty system can offer support and advice. Phone: 01273 295 550 or email SCDS@brighton-hove.gov.uk
SCDS are continuing to monitor direct payments. Advice is still available from People Plus. If you have a problem with your current Direct Payments package, for example your PA may not be available, contact your Social Worker or Early Help Worker/Social Work Resource Officer. It may be possible to use your Direct Payments in a different way in the short term but you must contact your worker before making any changes to how you use your Direct Payments package. There is more detail about DPs and PAs below.
Drove Road and Tudor House (BHCC children's residential respite centres) remain open for overnight respite, but they are affected by the need to keep children distanced and the availability of staff.  If the centres need to close temporarily due to staff shortages, the local authority will try to offer other options for short breaks like additional direct payments or support from outreach and social work staff.
East Sussex ISEND children's disability service
ISEND Social Care teams are working from home but offering as close to a normal service as possible. Social workers in ISEND Social Care are continuing to respond to parents and assessing their needs on an individual basis. They are mostly doing this over the phone. All children's social care services have been told to identify the children most at risk at this time and concentrate on them. Other more routine work may need to wait, but the ISEND social care team say they have mostly been able to find ways to respond to the particular challenges and queries from families of disabled children that are arising during the coronavirus pandemic.
If you don't have a named worker in the children's disability service, there is central ESCC contact point for all queries relating to Children's Services and provision in the current difficult situation. Email cs.customerrelations@eastsussex.gov.uk or call 0345 60 80 192 (10am-3pm).
Personal assistants and direct payments
Using PAs and employment issues
Your child's PAs can still work as usual as long as they are not sick or self-isolating, unless you decide that it is safer for your household that they do not. As paid carers they are considered essential workers.  PAs for adults are expected to now do twice weekly rapid lateral flow tests (LFTs). They can order a supply of these online. Find out more
here
. If the LFT gives a positive result they must get the PCR test and isolate until they get a result. Now we can all
get LFTs
from pharmacies and or online, PAs for children can also test regularly but you cannot insist on this as their employer.
You may need to provide your PAs with Personal Protective Equipment (PPE), for example if they do personal care.  If you can't get this from your usual supplier, in Brighton& Hove there is a an online route to request this but only if you meet certain criteria   and in East Sussex  ESCC have information about PPE on their website with a couple of options including a form to request an emergency supply from the council and a small grant scheme towards the cost of PPE.
Frontline health and care workers were amongst the first people offered Covid-19 vaccination. PAs funded through either continuing healthcare or social care direct payments are included by this priority group 2 for vaccination. There is more information on the Sussex Health and Care Partnership page on vaccination for the health and care workforce. Most health, social care and care workers have been offered vaccination now. If you take on a new PA (or one you use has for some reason not been vaccinated yet) they can still ask for vaccination, even though the mass vaccination programme has moved on to other groups now.
The government have provided some  guidance and FAQs about PAs and DPs which cover many of the questions parents have about DPs and PAs in the current crisis, including when PPE is needed. There is some information from People Plus who provide the PA support service in both East Sussex and Brighton & Hove this includes what you need to know about statutory sick pay if your PA is sick or self-isolating, why furlough does not apply to employees paid for from DPs and the options for paying your PA even if you feel it is safer for them not to come to your home at the moment. 
Alternatives to your usual PAs
 If your usual PAs can't come to you currently, it is possible that you could use Direct Payments to pay family members instead.  The regulations about the use of DPs say they can't be used to pay close family members living in the same home unless the local authority decides it is "necessary" to do so. In the current circumstances it is more likely that the LA will agree this kind of arrangement, at least temporarily. You must get agreement from your social worker first and get advice about the employment law implications of transferring funding over from an existing paid PA to a family member. Note that if your DPs come from health rather than social care because you get Continuing Health Care funding, the position is slightly different as the law says a CHC direct payment cannot be used to pay a family member or friend who lives in the same household to provide services unless this is set out in the care plan, so you would need to to request and negotiate a change to their care plan. Contact your care coordinator as a first step.
If you think there are things you could buy that would make it easier to care for your child at home in the current difficult circumstances, talk to your social worker. The Children Act 1989 gives LAs the power to give direct payments to purchase equipment. In the current crisis it is reasonable to ask them to be flexible about how to meet the needs of disabled children. Using direct payments imaginatively may be part of the solution. But be sure to get agreement before you pay out for anything that is not in your current DP plan, even if you have the funds in your DP account. In practice social care may come up with another way to fund a reasonable request.
If you are worried about how to cope if you are without your usual help from PAs you should let your social worker know, particularly if any part of your agreed social care support package is not happening as normal e.g. if your child's PA becomes ill or is self-isolating and you have not been able to find a replacement.
Respite, childcare, youth and leisure activities
Short breaks and respite
Covid-19 restrictions have affected childcare and respite services but most services are now back to normal arrangements, whilst taking steps to be Covid-safe. The main issues now are staffing due to sickness and the need to self-isolate.
Most short break and respite services for children and young people are running again, even if not with exactly their usual arrangements or number of sessions. Early years settings are open. Childcare of all kinds is not restricted and all childcare and supervised activities are allowed indoors (as well as outdoors) for all children.
Children and young people can go to respite and can have carers come to their home or take them out. 
Informal childcare, youth groups and fun
Most families rely on a mixture of care and leisure activities as well as or instead of more formal respite or direct payments. Normally these give parents a break and create fun for children and young people. It has been tough for families when these have been cancelled or reduced due to Covid-19 and a relief when they start up again.  All restrictions are lifted and you can make your own choice about what feels safe for your family.
Youth groups, parent support groups and parent and child groups can all meet without limits on numbers.  Meeting outdoors or ensuring plenty of fresh air and space indoors is still recommended.
Informal childcare is possible now without any restrictions.
Brighton and Hove use the search facility on the Family Services directory to find out about childcare and playschemes.
East Sussex has information on the Local Offer about activities and childcare during coronavirus.
Safety and family relationships
Getting out of the house
The government guidelines about what you can do during coronavirus have changed a few times now. Currently most restrictions have been lifted, apart from some rules around travel abroad.  Covid remains a risk and we are being asked to make sensible choices for ourselves and others.
You can read the most up to date guidance on the Coronavirus rules.
Wearing masks
From Thursday 27 January wearing masks is no longer compulsory in shops and on public transport. It is still recommended other than for exempt groups including:
Children under 11 (masks are optional for 3 to 11 year olds, and under-3s should not wear face coverings)
If you have a disability or health condition that means you cannot wear masks, or it would cause you severe distress to do so
If you are travelling with someone who relies on lip reading to communicate
View the full list of exemptions here.
You may want to carry an exemption card. Amaze has created two designs for children and young people to choose from: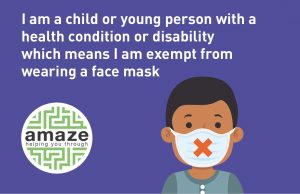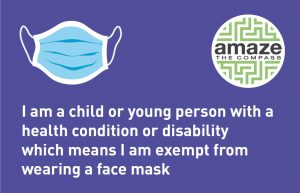 Press and hold on the image for the option to download to your phone. If you want to print a copy to carry with you, download both designs here [pdf 63kb].
The government has now produced some national exemption badges or cards that can be downloaded onto a mobile phone or printed.
Here is an Easy Read guide to wearing face coverings on the bus [.doc 334kb] from Brighton & Hove Speak Out.
If you are looking for a mask with a clear panel to help with communication or lipreading, one source is the not for profit online shop for disabled children Fledglings.
Online safety
Many children and young people will be online more than usual during the pandemic. Using the internet for learning and keeping in touch with family and friends is a positive. And the challenge of caring for your child with SEND at home and mostly indoors, alongside getting other things done and having enough time for yourself to stay sane, means resorting to devices and the distractions on offer online is fair enough. But it is worth checking they are as safe as they can be.
Here's some good advice about online safety from Childnet
There most comprehensive and up to date advice specifically for parents of children with SEND is from internet matters.
The Children's Commissioner has also produced a digital safety guide for parents and one for children and young people 
Covid-19 scams
There have unfortunately been reports that some fraudsters have been using Covid-19 to scam people in a variety of ways. While we are all at risk from scams like these, your child's additional needs may make them particularly vulnerable. If they have a mobile phone or use email, make sure they know how to avoid getting tricked:
Coronavirus vaccination scam alert
Some people are receiving fraudulent calls and text messages offering the Covid-19 vaccination. In some cases, people are asked to press a number on their keypad or to send a text message to confirm they wish to receive the vaccine. Doing so is likely to result in a charge being applied to their phone bill. In other cases, callers are offering the vaccine for a fee or asking for bank details.
The vaccine is only available from the NHS and the NHS will contact you when it is your turn.
The NHS will:
NEVER ask you to press a button on your keypad or send a text to confirm you want the vaccine. NEVER ask for payment or for your bank details.
For more about coronavirus vaccination visit our page on Covid and Health
Track and Trace tips
Police and Trading Standards have provided some guidelines around Track and Trace, to help you feel confident you're in contact with the right people.
Genuine contact tracers will:
contact you by sending you a text message from 'NHS', calling you from 0300 013 5000 or by email
ask you to sign into the NHS test and trace contact-tracing website: https://contact-tracing.phe.gov.uk
ask for your full name and date of birth, and your postcode
ask about any coronavirus symptoms you're experiencing
ask for the name, telephone number and/or email address of anyone you have had close contact with in the two days prior to your symptoms starting
ask if anyone you've been in contact with is under 18 or lives outside of England
They will never:
try and get you to dial a premium rate (09 or 087) number to speak to them
ask you to make any form of payment or purchase a product of any kind
try and get you to download any software to your PC, or ask you to hand over control of your PC, smartphone or tablet to anyone else
ask you to access any website other than the contact-tracing website (https://contact-tracing.phe.gov.uk)
try and get any details about your bank account
ask you for any passwords or PINs
try and get you to set up any passwords or PINs over the phone
ask for your social media identities or login details, or those of your contacts
offer any medical advice on the treatment of any possible coronavirus symptoms
Reporting scams
If you suffer from fraud due to a scam like this, report it to Action Fraud.
The National Cyber Security Centre has also asked for people to forward anyone phishing attacks they receive (where someone pretends to be a reputable organisation to try to get your personal information) to them at this email address: report@phishing.gov.uk . Where the victim is vulnerable, report it to Sussex Police online or by calling 101.
Siblings
 More time at home together may be a happy thing for some families but the reality for others is that brothers and sisters of disabled children may be finding it hard. They may be being more of a carer than usually, getting less attention from you and perhaps struggling with their sibling's behaviour towards them. National charity Sibs have good advice for
parents
and
siblings
including an online chat forum they can join.
In Brighton & Hove the Young Carers project at the Carers Centre may be able to offer some online support for siblings now taking more of a caring role. Parents can refer their own child to this service at the moment using their online young carers referral form and put 'parent' in the 'professional agency' box on the form.
In East Sussex, the Sibling Service are offering groups and activities online. Email them to find out more Sibling.Service@eastsussex.gov.uk
Domestic abuse
Staying at home and isolating yourself and your family isn't easy for anyone, but it is particularly difficult if you are living with someone who may hurt or abuse you.  If you need to leave home to escape domestic abuse you should still do this.
If you are subject to domestic abuse, you are not alone, there is help available. For advice and support visit Refuge Domestic Abuse Helpline or call 0808 2000 247.
If you are in immediate danger, or suspect someone else is, call 999.
If you are unable to talk, call 999, listen to the operator and then either press 55 on a mobile, when prompted, or wait on a landline to be connected to the police, who will be able to help.
For more advice and support, in East Sussex visit the Safe in East Sussex website  and in Brighton & Hove try this page from COVIDBrighton 
Behaviour and parenting
Advice and support for parenting
 Families are dealing with a lot at the moment – missing normal activities, worries about coronavirus, things being different at school, not getting a break from each other. This all adds up to quite a challenge for children and parents. Many families are finding that it is tough and your parenting skills may be being stretched to the limit. There is no easy answer but some things will help.
Triple P have a good summary
of the common sense things we all need to do as parents at the moment
or watch their Triple P videos here
and the
tips from the National Autistic Society
are useful for many children.
East Sussex : If your child is already connected with a worker at an ISEND service for example from the CLASS or ESBAS teams, they may be able to offer advice to you at home now. Open for Parents have helpful parenting advice and information on their website  and they are sharing ideas on their OpenforParents Facebook page.
ISEND educational psychology service have written a guide for parents about emotional wellbeing that you can use to help your child manage the emotions that can lead to tricky behaviour.
Brighton & Hove: If your child is already connected with a worker at BHISS for example from the autism or the SEMH teams, they may be able to offer advice to you at home now. The Integrated Team for Families are providing virtual support to families via Family Coaching. Front Door for Families and the Parenting Team are offering support and advice. Find their contact details here.
If your child is a risk to you or others
Obviously every parent aims first to help and support their child with their behaviour, but even if their behaviour is intertwined with their learning disability, neurodevelopmental condition or mental health need, there is a point when you have to consider the safety of those around them. The additional strain of the current coronavirus situation may be a tipping point.
If you have a named worker  from the Specialist Community Disability Service (BHCC) or ISEND Children's Disability Service (ESCC) you should contact them if your child's behaviour is becoming a challenge to manage at home. If you are not under one of these services call Front Door for Families in Brighton & Hove on 01273 290400 (out-of-hours 01273 335905) or SPOA in East Sussex on 01323 464222 (out-of-hours 01273 335906). Do this urgently if you or other children in the house are at risk as a result.
In an emergency situation you can and should call the police via 999.
Advice and support for carers
Local support for carers
The Carers Hub for Brighton and Hove is still working to support carers locally, switching services to phone, email or
online
Care for the Carers is still working to support carers in East Sussex, switching services to phone, email or online  and has information about extra support from other carers organisations across the county at this time, like this example.
f