Coronavirus – money and essentials
Coronavirus - money and essentials
Find out what is happening with disability benefits like DLA and PIP during Covid-19. Get information on sickness and employment benefits and other financial help and support.
Feeding your family
Doing your food shopping
Most difficulties with shopping due to Covid have eased off now but anyone who has to self isolate may have trouble as online deliveries can still be hard to book. Generally supermarkets have cancelled their special shopping hours for vulnerable shoppers. 'Which' have a list of the special shopping times and delivery arrangements at each main supermarket chain. Local stores may have slightly different arrangements. If you still need priority entry, take proof that you are a carer, for example a Carers Card, a letter from DWP that shows you get Carers Allowance or DLA. If you live in Brighton & Hove and your child has a Compass Card you should have had an email with a letter that explains that you are an essential carer to use for this. We suggest you take your Compass Card and Carers Card to show with the letter.
Mask wearing is now a must on public transport and in shops and recommended in other enclosed public spaces. There is government guidance about using masks including where you have to wear a mask and who is exempt, including:
Children under 11 (masks are optional for 3 to 11 year olds, and under-3s should not wear face coverings)
If you have a disability or health condition that means you cannot wear masks, or it would cause you severe distress to do so
If you are travelling with someone who relies on lip reading to communicate
View the guidance to check the full list of exemptions.
If you have a child over 11 with a hidden disability it would be wise to carry proof when using public transport or shopping in case you are challenged, for example, your Compass Card or DLA letter.
You can also download a card to print or keep on your phone to easily communicate that you or your child are exempt from the face covering rules. Amaze has created two designs for children and young people to choose from: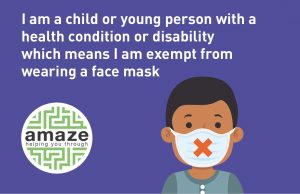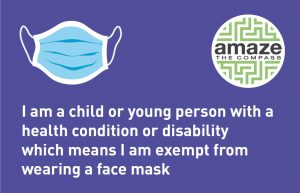 Press and hold on the image for the option to download to your phone. If you want to print a copy to carry with you, download both designs here [pdf 63kb].
The government has now produced some national exemption badges or cards that can be downloaded onto a mobile phone or printed.
Here is an Easy Read guide to wearing face coverings on the bus [.doc 334kb] from Brighton & Hove Speak Out.
Getting food if you are self-isolating
If you are having trouble getting to the shops because you are self-isolating or you are a single parent and would have to take your child with SEND with you, it is fair enough to ask for help. Lots of new local support networks started up to help look after each other in practical ways during the pandemic and existing voluntary and community groups stepped up to help.
All local support like this is now listed on the Brighton & Hove Covid directory and there is specific information about shopping and food here. This directory is also the place to find out how to contact your local Covid 19 mutual aid group.
East Sussex County Council's website has a page all about food shopping and delivery during the pandemic. For information about all community help and support in East Sussex you can visit the council's Coronavirus help and support page.
Some individuals and neighbourhoods are also offering help via a #viralkindness postcard that has taken off nationally. And Amaze has set up a version of this card that enables neighbours to offer particular help to families who have a member with additional needs https://amazesussex.org.uk/amaze_news/amaze-creates-community-help-postcard-to-help-vulnerable-send-families-during-covid-19/
If friends, neighbours or a local group are not able to give the help you need you can contact the Community Hub to ask for help
Brighton & Hove: What the hub does and how to request help
East Sussex: What hubs can offer and details for each part of the county
These local Community Hubs are there to help people who are having trouble meeting their essential needs during the current crisis because they are vulnerable and isolated. They will try to respond if you are in urgent need and can't get support from family, friends or neighbours. They can help if you cannot get to the shops or need to know about food banks.
If you are self-isolating for health reasons NHS Volunteer Responders can help you with shopping and fetching prescriptions.
Food banks
If you are having general financial difficulties see the last section on this page.
Brighton & Hove Food Partnership have information about to get hold of food if you are struggling because of the Coronavirus. This includes how food banks are operating now and information about free or low cost delivery services for groceries or meals: https://bhfood.org.uk/coronavirus-update/
Food banks in East Sussex are changing how they operate during the crisis so check before you try to use one. You can get an up to date list of East Sussex food banks on the ESCIS website
Free School Meals
The government announced at the start of the pandemic that they would put in place support for children eligible for free school meals who were not at school to get their meal. This was extended to cover the 2020 summer holidays. It stopped once schools returned in September but with the new national lockdown from January 2021, there is a fresh scheme to make sure children not in school can get a free meal or equivalent. Schools can work with their existing caterers to provide deliveries of food parcels or use a new national voucher scheme. Your school should let you know what they are doing.
In November the government announced (after a public campaign) a more flexible form of help for low income families via local councils rather than schools for the winter period. This means they did not extend free school meals over the school holidays. Amaze was able to help families of children with SEND benefit from this scheme locally.
This Easter and in the summer holidays there will be holiday activities with food for children eligible for free school meals. These should include suitable activities for children with SEND. Find out about these and book places in East Sussex and in Brighton and Hove 
Please beware of scams. Schools will NOT ask you for bank details.
DLA and PIP
New claims
The DWP are still taking new claims for DLA and PIP as usual and there are no changes to eligibility criteria or rates. You can phone/email the Amaze helpline for advice and help if you are in East Sussex or Brighton & Hove. It may take a bit longer for us to help, but don't miss out on these valuable benefits by delaying starting a claim. If you have started a PIP claim and you are worried you can't get it back in time do ring the DWP to ask for an extension.
Renewals and reassessments
At the start of the Covid-19 pandemic the government announced  that there would be no new reviews or reassessments across all benefits for three months from March and that this would be kept under review and possibly extended. This included DLA and PIP, as well as Universal Credit and Employment and Support Allowance. From May 2020 onwards the DWP sent out letters to say that claims coming up for renewal were being extended for six months. Some people receiving this letter had already sent in their claim. If so, the DWP will process this claim eventually. You won't have to fill out the form all over again. But many of these extensions have now come to an end and the DWP is sending out review packs. Don't ignore this. Contact the DWP and ask for more time if timescales feel really tight.  The same applies if your older young person is already on PIP and gets a PIP renewal pack.
If your child is getting DLA and due to turn 16 soon, you should still get asked to claim PIP. Do not ignore this invitation as you don't want a break in your DLA award. Do ask for extra time to complete the pack if you need it, but you will still need to get it done soon.
If you were due to ask for your child's claim to be reassessed because of a change in circumstances, for example to get the mobility component when your child turns five, you can still do this. If there is a change in your child or young person's needs you should still contact the DWP to ask for review, so that you will get a backdate if you are successful when this is eventually carried out.
You can continue to phone/email the Amaze helpline for advice about reviews and reassessments.
Face to face assessments
The DWP stopped face-to-face assessments for health and disability-related benefits including PIP because of the pandemic and assessments have been on paper or by phone instead. The DWP have said that they are gradually restarting face to face assessments from April 2021. Face to face assessments for PIP are expected to be reintroduced from May. But the DWP say this will "only be for those who we are unable to fully assess by other channels" so most assessments will still be carried out on paper or by phone.
Reconsiderations and appeals
If you do not agree with the decision about your DLA or PIP claim, be aware the timescales for requesting a mandatory reconsideration or lodging an appeal are short and have not changed. If you need extra time to get advice do contact DWP and ask for more time given the current crisis.
You can continue to phone/email the Amaze helpline for advice about reconsiderations and appeals.
Appeal hearings Since 20 March 2020 all appeals have been dealt with on paper or by a telephone hearing. If you have an appeal hearing the tribunal service will contact you to let you know what is happening. If your appeal hearing is less than a week away and you have not yet heard you should call them.
Carer's Allowance
The government has changed the Carer's Allowance rules so that a break in caring can be ignored if it is caused by either the disabled person or their carer having Coronavirus symptoms, so don't worry if this is the case for you.
If your income has dropped at the moment it may be time to claim Carer's Allowance. Check if your child gets the relevant rates of DLA or PIP to claim Carer's Allowance if you are now under the earnings limit of £128 per week after deductions.
Sickness and employment benefits
Statutory Sick Pay and alternatives
Statutory sick pay (SSP) is available for eligible individuals diagnosed with Covid-19 or those self-isolating because someone else in their household as coronavirus.  SSP will be payable from day one instead of day four for affected individuals.
You can get an isolation note through an online service from NHS 111. Isolation notes will provide employees with evidence for their employers that they have been advised to self-isolate and so cannot work due to coronavirus, because they have symptoms or they live with someone who has symptoms, or have been told to by the test and trace service.
Low-income workers who who are asked to self-isolate by the NHS Test and Trace Service, and who are unable to work from home during their period of self-isolation and who lose money as a result, can apply to their local authority for a £500 payment. You can apply if you are employed or self-employed and have claimed at least one of the following benefits: Universal Credit, Working Tax Credit, income-related Employment and Support Allowance, income-based Jobseeker's Allowance, Income Support, Pension Credit or Housing Benefit.
Local authorities also have the discretion to make a payment to workers who aren't on one of these benefits, but who are on low incomes and who face financial hardship as a result of not being able to work.
If you are not eligible to receive sick pay but but your income has dropped due to coronavirus, you may be able to apply for Universal Credit and/or apply for New Style Employment and Support Allowance. You may also be able to claim Universal Credit to top up your SSP. Citizens Advice explain who may be eligible and what you can get here.
There have been changes in how to apply and some aspects have been made easier or more generous, for example allowed housing costs. See official government information on coronavirus and claiming benefits here. This has information on new claims and existing ones and covers more than just Universal Credit.
If you are working or were until recently but you are not sure what financial support during coronavirus applies to your particular circumstances, you can use this online guide from CPAG.
Help with financial difficulties
Debt, benefits and employment advice
Family Fund grants
The Family Fund have been given additional money to make more grants this year to families with a disabled child who are on a low income. Visit their website to
find out if you may be able to apply
. Families can usually apply once a year for a Family Fund grant, but with this emergency funding this is more flexible. If you have not had a grant in 2021 you can apply now. Grants are for essential items to make life easier during the ongoing crisis. This can include computers and play equipment as well as household items such as cookers and fridges.
Disclaimer
Amaze has put together this list to try and answer some of the concerns families have expressed to us about how coronavirus will affect them. Our answers were compiled based on the latest advice from trusted sources such as Public Health England, the NHS, Brighton & Hove City Council, East Sussex County council and national or local news outlets reporting the same. Even with the reliability of our sources, we cannot take responsibility for the accuracy of the information or any actions taken as a result.
Sign up to our newsletter