Young people's guide to the ups and downs of lockdown
Having asked parent carers to tell us about their experiences of the Coronavirus pandemic as part of our recent survey, we also wanted to hear from local young people with additional needs. So we asked some of the young people who attend our Amazing Futures groups in Brighton and Eastbourne to tell us about the best and worst bits of lockdown for them so far. We got lots of insights into the problems they have been facing but also uplifting tips and information about the things that are helping them through.
The hardest parts
Well, when we asked what everyone was finding challenging at this time, unsurprisingly, a universal "worst bit of lockdown" has to be not being able to see family and friends, but hopefully some of you may have been able to meet up again under the new social distancing rules? It was also agreed that not being outside very much was making things tough… and when you are outside, other people not adhering to the 2 metre rule is very annoying!
"(People) that keep walking right past us when they should be 2 metres away (are making lockdown hard)! That's really frustrating! It happens everywhere we go, I don't understand why they get so close."
Many said they were annoyed with the stockpiling and panic buying that led to the shops being emptied of essentials and favourite foods – we are all thankful that has started to calm down now, but don't forget you can use your Compass Card or iGo card as a form of ID to get in a shop at times prioritised for keyworkers and vulnerable people.
So what is helping young people through?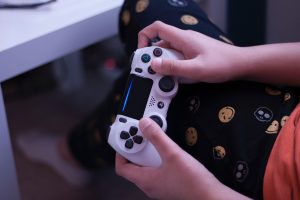 A top tip we were definitely expecting from young people – many are finding gaming is a great distraction in lockdown. Whether alone on a phone, online with friends or with members of their household, it seems that computer games can be a real life-saver when you are stuck at home!
"What's getting me through is that I'm able to play games on my phone."
Many have been missing classes and groups they would normally go to, but thank goodness for technology again – as they've been enjoying them online in Zoom sessions or on YouTube (the latter is also a great resource for slime videos we are told!). And thank goodness we can all get active with those remote PE/yoga/dance classes, because young people also said they've been enjoying baking and eating lots of cakes!
We were also pleased to hear everyone is enjoying the app TikTok at the moment – because Amaze now has an account! Please be sure to follow us – we are @Amazesussex !
Other calming activities included listening to your favourite music, going on a socially distanced bike ride with a friend and remembering to laugh.
And we really loved (and were moved) by this young person's response to what is getting them through lockdown;

"My mum! She has kept us busy & calm, had fun and laughed with us! She literally joins in with us, so I am grateful to have a mum like her."
A really excellent coping with lockdown tip was:
"Being selective and not listening to or watching too much of the news. Also being selective about who I choose to follow on social media – only follow people who I'm interested in."