Young people's art project billboards installed in Southwick
Pagane Gacheva, one of Amaze's Young People's Interns, is here to tell us about a recent art project from Amazing Futures, in partnership with Mymarc.
---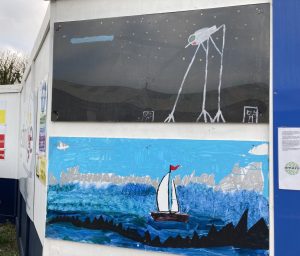 During the summer a group of young people took part in a five-week art project. The project focused on designing billboards for a development site on Albion Street in Southwick.
The artwork produced for the housing project included both individual and collaborative pieces. The young people chose a theme of home, or things which are important to them. They explored this in many different ways. For some, home meant a location. For others, home was about their favourite films, or patterns which made them feel joyful. This culminated in producing artwork on a variety of topics, including landscapes, sealife, and abstract art.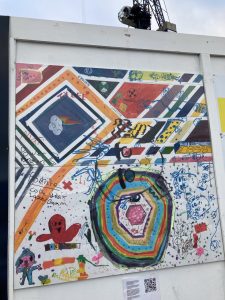 In the final session everyone worked together on a large piece made of two boards. This highlighted that the project didn't only produce remarkable and expressive paintings. It also provided a space for the young artists to connect and learn more about each other, whilst developing teamwork skills.
This is reflected in the display: the boards are all great on their own, but they are even better when combined. Together, they convey the theme of home and all that comes with that such as warmth and the spirit of community.
The project was a collaboration between Amaze and Mymarc. The two organisations work together to run the Amazing Futures art group for young people with additional needs in Brighton & Hove. The boards were kindly provided and installed by Westridge Construction Ltd.
---
Want to get involved?

If you're aged 14 to 25 with SEND, and live in Brighton & Hove or East Sussex, learn more about Amazing Futures groups for young people.