Update from East Sussex Parent Carer Forum (ESPCF)'s co-chairs Jo Nye and Emily Sanders
The newly formed East Sussex Parent Carer Forum (ESPCF) is now up and running, providing a voice for the parent carers of East Sussex at a strategic level. Whatever disabilities your child or young person has, whatever special educational needs, we're here to represent you. But to do this, we need your feedback. We need to hear about your experiences, for you to fill out surveys and let us know what works well, and what your greatest concerns are. We're your voice, so what do you want to say?
Get involved and share your views
There are lots of different ways parent carers can get involved in ESPCF:
Sign up to receive information and updates
Join a focus group and help to shape services in East Sussex
Sit on a panel at a strategic level, representing the wider views of parent carers in East Sussex, and feeding back to ESPCF – we offer training and support to take on a role like this
Work with ESPCF as part of a support group you attend
Work for ESPCF – we're recruiting for three posts right now: ESPCF Adminstration and Comms Assistant,  ESPCF Engagement Coordinator and  ESPCF Chair
Anything you raise with ESPCF will be represented in an anonymous capacity and fed through to the appropriate parent carer rep. It will often be the case that several parents feed back shared experiences, both positive and negative, so never worry about raising something with us.
If ESPCF sounds of interest to you, please sign up and let's get our collective voices heard.
Help develop ESPCF
As parent carers we often have latent talents that haven't been used for a while, so we're keen to hear from anyone with any rusty skillsets that would like to assist in this exciting new venture.
The interim committee which is developing ESPCF has, with the support of Amaze, been working hard to set things up. We're starting from scratch so there's lots to do!  East Sussex meetings that require parent carer reps still roll on, and the interim committee has been working hard at bringing in new reps and attending the meetings themselves.
We train all our reps, and reimburse you for your time and travel. If you're in receipt of benefits that mean financial payments aren't an option get in touch and we'll let you know our guidance for these situations.
If you're interested in supporting ESPCF's development or being a parent carer rep, please get in touch by emailing info@espcf.org.uk.
Coming up
In February the Council for Disabled Children (CDC) is holding an event for key stakeholders across education, health and social care in East Sussex, to develop a multi-agency outcome framework for supporting children and young people with SEND and their families. ESPCF has been asked to have representatives there to help facilitate table discussions amongst the attendees. Check back next newsletter for an update following this event.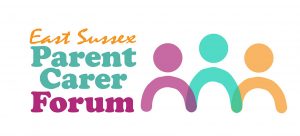 – Jo Nye and Emily Sanders, ESPCF Co-Chairs