The latest from Amazing Futures in East Sussex
Our Amazing Futures peer support activity groups in East Sussex have had a busy few months. Here are some of the highlights…
Some of the young people volunteered at the Mayor's quiz night last month, where we made over 60 Ploughman's Lunches! We then served the meal and cleared away tables too. The night was a great success, no doubt in part due to the excellent catering… 
Every Wednesday afternoon, Ed's Amazing Running Group has been meeting to go for a run along the Eastbourne seafront. We've been progressing well, and can now run two miles without stopping in 23 minutes! We're going to do our first ever Parkrun on Saturday (12 February) at the Shinewater lakes. Watch out, there will be no stopping us soon!
Like many others, we tried to start this year as we meant to go on. Youth worker and fitness teacher Ed Richardson ran four New Year New You sessions in January. We learned new ways to exercise, and about healthy lifestyles. We're determined to carry on with at least some of our new good habits. 
Charlotte and Eliza have created a fantastic new mental health handbook for peer supporters
. Charlotte is our Amazing Futures intern in East Sussex, and Eliza is on a student placement.
Charlotte and Eliza are also working with the
newly
formed (but
as yet
unnamed!) East Sussex youth voice group. Together we are developing a series of resources for young people with SEND on topics like: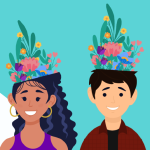 mental health and SEND

I am not

just

my label

things you always wanted to ask professionals but were too embarrassed
The youth voice group has discussed what we want to achieve. We agreed our focus is going to be on community action.
We want to educate people about the realities of the lives of young people within the SEND community, focusing on the positives
.
---

If you'd like to get involved, or have questions, contact Claire on
07484 915038
 or email 
claire@amazesussex.org.uk