Summer planning – making the most of the holidays
Despite lockdown restrictions easing slowly, school holiday planning is still likely to be more challenging this summer. Many families may be feeling anxious about how to entertain their school-aged children or where to turn to for childcare. With this in mind, we've pulled together a list of possible schemes and activities to help you plan the break you need and keep the family occupied. 
Holiday schemes
The simplest way to find out about play schemes in your area is to look at Brighton & Hove's Family Service Directory or East Sussex's ESCIS directory. Although most of the schemes will not be disability specific, they should all be inclusive, and you can contact them directly to see if they have spaces and can support your child and their needs. Providers may be able to access inclusion funding where children need additional support to attend, so do ask them about this. 
It might be sensible to start your search with play providers who actively promote their inclusivity. For example, Honeycroft in Hove is an inclusive after school and summer play scheme for primary school-aged children, running a summer club for the first three weeks of the summer holidays. Nippers in Newhaven is another inclusive play project, which will be operating their summer play scheme and have places available at the time of writing. 
Many play schemes, activities and groups may be operating a more limited service than normal due to Covid restrictions, and some regular schemes that offer higher levels of support for disabled children, such as Extratime, have confirmed they are only open to families who have previously used the service. Families with personal budgets should be able to access their usual holiday provision although there might be some changes due to Covid.
You should also visit the Brighton & Hove Local Offer and East Sussex Local Offer for the most up to date information on activities and resources for children and young people with SEND. 
The Department for Education's Holiday Activity and Food (HAF) programme will be offering FREE holiday activity places this summer in Brighton & Hove and East Sussex. This means that children and young people aged four to 16 (currently in Reception to Year 11), who receive benefits-related free school meals, are eligible for free sessions throughout the summer. Places will provide fun activities, time to socialise with friends, an opportunity to build confidence and a free nutritious meal each day. Visit the list of HAF schemes in Brighton & Hove where you will be able to contact a chosen provider directly and follow their booking process, and for East Sussex visit the holiday food and fun page here.. Places will be limited so please book quickly to avoid disappointment. Parents and carers in Brighton & Hove can contact the Family Information Service via email: FamilyInfo@brighton-hove.gov.uk for assistance or more information.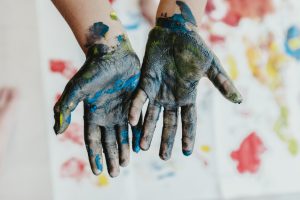 Support from social groups
There are social/support groups across Brighton & Hove and East Sussex that are run by and for families of children with SEND, such as Brighton Pebbles, mASCot, T21 and Embrace. You can find more details of local parent support groups here on our parent support groups page. Contact them to see if there are any meet-ups or events planned for this summer. For parents rather than children, Amaze Face 2 Face groups are meeting through the summer via Zoom.  PaCC coffee mornings in Brighton have some summer meet ups (for those already in touch), but will be up and running again (hopefully for face to face drop ins) from 14 September.  
Project Art Works have a Summer Social with the Support Collective, Thursday 5th August, 10am – 12pm, in Hastings. It's an opportunity for families, carers and the circles of support for people with complex support needs to come together and enjoy coffee and cake in their garden space or studio base. Email Esther: esther@projectartworks.org before 19 July, to secure a place. They are also offering Art Breaks Summer Sessions, which focus on children and young people with complex needs, alongside their parents, carers and non-learning disabled peers. The sessions take place from Tues 10 to Thurs 12 August and Tues 17 to Thurs 19 August.
Apply for a space here by the 16th July 2021.
Our Amazing Futures peer support groups for young people in Brighton & Hove and East Sussex have lots to offer this summer, check out all the latest information here. To get involved in any of the group activities for young people with SEND aged 14-25, please contact Claire Piper (East Sussex) on claire@amazesussex.org.uk or text/call 07484915038 or Sue Winter (Brighton & Hove) on sue@amazesussex.org.uk or text/call 07483 111648.
Getting out and about
As of Monday 19 July we may expect a loosening of restrictions for public venues, but for now, you can rely on the fact that the majority of venues are open for outdoor activities, with the need to wear a mask, if you can, indoors (when visiting cafes, gift shops, for example). 
Farms, theme parks and cinemas are opening but with specific rules to aid social distancing. All of them will require pre-booking so make sure you do this before turning up – you should check each of their websites to understand their rules about masks, food and queuing so you are not disappointed. 
Many of you in Brighton & Hove and West Sussex will have a Compass Card, run by Amaze, which gives you access to lots of leisure discounts and offers across Sussex. Covid-19 has had a huge impact on leisure but most of the Compass Card offers are back up and running now. There's an amazing variety of discounts at over 230 venues across Brighton & Hove and West Sussex. Just check out their offers page to see all the places you could visit. There's some great new offers too, including an accessible sports club in Eastbourne and a super cool board game lounge in Worthing. Don't forget the FREE Compass Card app, which allows you to check offers while you're on the go. You can even search by area, age, accessibility and activity type. Stay up to date with the Compass Card E-Newsletter, Compass News, and on Facebook and Twitter.
We encourage everyone who needs to renew their Compass Card to do so as soon as you can so you're prepared for the summer. Families can renew or register for a Compass card here. There is an online application form for West Sussex families and printable forms for Brighton & Hove families.
i-go is the Children's Disability Register for East Sussex County Council. There are some great new offers for the summer including the Days Out City Card giving lots of shopping, eating and days out discounts across Sussex, 10% discount at Go Ape and half price entry at Hastings Adventure Golf. Check out the latest i-go offers on the i-go website.
In East Sussex, the ISEND Facebook page is worth following for news about what's on. 
And don't forget to like the Amaze Facebook page as we will continue to share news about events and activities for families across Sussex throughout the summer. 
Short breaks and direct payments
If you normally rely on short breaks providers and schemes and cannot get a place this summer, you should contact your named worker in the children's disability social work team for your area. It may be possible for them to agree a way for you to use direct payments flexibly if that could help you avoid a crisis. If you don't have a named worker use these contact details: 
East Sussex: Email cs.customerrelations@eastsussex.gov.uk or call 0345 60 80 192 
Brighton & Hove:  Phone: 01273 295 550 or email SCDS@brighton-hove.gov.uk 
If you are not already under the children's disability service in your area but feel you are at breaking point this summer, call Front Door for Families in Brighton & Hove on 01273 290400 (out-of-hours 01273 335905) or Single Point of Access (SPOA) in East Sussex on 01323 464222 to seek help. 
Getting support
Finally, we can all have moments when it feels like too much. There are people who can help and offer you support to keep going or look after your mental wellbeing. Read our article about Getting emotional support during the summer. If you are struggling emotionally and looking for strategies to help you cope, you may be interested in Contact's Listening Ear, they are offering 1-1 telephone appointments with a family support adviser for parent carers looking for a listening ear, reassurance and practical and emotional support.