Spotlight on Kacey – our Kickstarter Advice Line Assistant
You may have seen our previous blog post about staff members Mia and Charlotte who joined Amaze in roles funded by the Kickstart government scheme for unemployed young people. This feature focuses on Kacey, who has been working as our Kickstarter SENDIASS Advice Line Assistant for the last four months.
How did you get the job?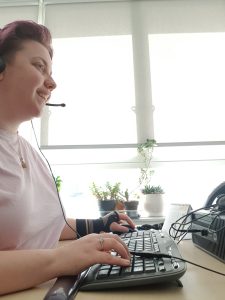 "I had been looking for a job that took my disabilities seriously, with an organisation who were willing to adjust their role to my needs. I was offered an interview by my Universal Credit job coach for the role. I interviewed and was offered the role a day or so later."
What does the role of consist of?
"I am an Advice Line administrator mainly: I log phone and email messages from parent carers and young people and ensure their queries are answered by a SENDIASS advisor. I ensure demographic data is up-to-date. I call them to get a bigger idea of their situation and their queries before an advisor picks up their call."
What do you enjoy about being an Advice Line Assistant?
"I enjoy interacting with the people who call in, building a supportive rapport with them and seeing how the help and advice we give them impacts their lives. I have really enjoyed learning more about the service map in the local counties, as this has guided me in what areas I may want to work in for the future. Working in an environment with people who work day to day with disabled people means I have been able to access support with areas of my own life impacted by my disabilities such as employment and benefits."
What is challenging about the role?
"One of the challenges is that the service is very busy. Everyone is working hard to answer parent carers and young people as quickly as possible, but we are seeing more and more complexity in queries as well as a massive increase in calls in general."
What has being a SENDIASS Advice Line Kickstarter done for you?
"I have really grown in my opinion of myself and my abilities. I feel like I know a lot more about the kind of work I want to pursue in the future now, and I have loved the opportunity to develop my helping skills.
It has been a validating, if not slightly saddening, experience to learn that my own struggles in school because of unrecognised SEND are not unique. I have empowered myself to navigate employment in the future and have been able to refine my ability to advocate for myself and for my needs. The employment help I have accessed via this role leaves me feeling confident and prepared for the future."
What is Kickstart?
Kickstart is a government scheme which is funding jobs for 16 to 24 year olds on Universal Credit who are at risk of long term unemployment. The funding covers 100% of the National Minimum Wage (or the National Living Wage depending on age) for 25 hours per week, for a total of 6 months. (Plus employer National Insurance and pension contributions.)