Rachel's autumn round up of Amaze news – September 2021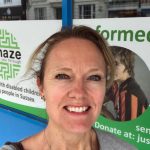 Welcome to our autumn round up of Amaze news. Though this month sees a return to school for most, we know some of our more vulnerable young people are still waiting for their second vaccination before they feel able to return, and many others remain extremely anxious about going back.
Over the summer, Amaze and the local parent carer forums worked really hard to increase awareness among Sussex clinical commissioning groups and vaccination centre teams about the needs of clinically extremely vulnerable 12-15 year olds who want a vaccination.  As we go into the autumn, we will be continuing to work with the three carers' centres in Sussex to promote the needs of all unpaid carers, and we will be part of a campaign to support carers to think about their own wellbeing this winter, including options for getting the Covid booster and flu vaccinations. We urge you to register as a carer with your GP, if you haven't already and read our latest vaccination update (22.09.21).
The Amaze SENDIASS advice line continues to be incredibly busy, with many families seeking our advice and support about their child's education placement and the level of support they are receiving in school. So we are not surprised to see that the numbers of children being educated at home have have risen steeply, as have requests for new placements and for EHC assessments. We have joined the 'Let Us Learn Too' campaign which is advocating that children and young people with disabilities should be able to access an education that meets their needs and supports them to learn on their own terms. We also continue to work with the parent carer forums, local authorities and schools to highlight needs and make suggestions to improve services.
A good example of the joint working is our support of the joint strategic needs assessment into services for disabled children in East Sussex. The Public Health team carried out the analysis and pulled together a report published last month (www.eastsussexjsna.org.uk/JsnaSiteAspx/media/jsna-media/documents/comprehensiveneedsassessment/SEND-Needs-Assessment-August-2021.pdf) which includes a wide range of recommendations for improvement. The East Sussex Parent Carer Forum did a fantastic job of shaping this review, making sure parent carers' views are at its core. You can read more about this in ESPCF's update. It was heartening to read about certain services recognised as providing excellent support (including Amaze's SENDIASS) but there is clearly a lot of work to do across a range of teams to implement the findings, and we will share more about this in the coming months.
Amaze is a member of the Disabled Children's Partnership (DCP), helping to track the impact of the pandemic on disabled children and their families over the last six months. I attended the DCP parliamentary event last week to launch their new report "Then there was silence". The report's stark findings are unlikely to be a surprise to many families, particularly the sense of abandonment over the pandemic, with vital support being reduced or stopping altogether.
Disabled children have seen their conditions worsen: some needs have become more complex; and delays in assessments have meant that some children's needs haven't yet been identified.  The report highlighted that the emotional wellbeing of all members of the family, including disabled children's siblings, has worsened, and this is something that we have been raising locally. The DCP is urging the government to plug the hole in funding for disabled children's services to tackle the backlog in assessments for physical and mental health support, therapies and equipment, but also to ensure that children's needs are re-assessed in light of missed support during the pandemic. If you haven't already done so, please  add your signature to Maureen's open letter calling on the Chancellor to fund disabled children's services ahead of the government's key Spending Review on 27 October, which decides how much money different services and departments get.
Our direct work supporting young people is going from strength to strength, with our Amazing Futures teams offering a wide range of group activities and peer support sessions throughout the summer and a packed schedule for autumn too. Read more about Brighton & Hove Amazing Futures and East Sussex Amazing Futures activities. We are delighted to be welcoming four new young people with additional needs who have taken up jobs at Amaze as part of our Amazing Futures team. Our newest intern has joined our Board of Trustees (currently made up of parent and sibling carers) as the young person representative, to make sure that young peoples' voices are not only heard but helping to make decisions about our strategy at the highest level of Amaze.
With all this brilliant work going on, it was devastating to learn before the summer that Amaze has lost our funding from the National Lottery Community Fund – which had been funding a lot of this incredible work with young people with SEND in Brighton – and that we had been hoping would invest in more support in the coming years. Thankfully, our local authority partners stepped in by providing some additional funding this year, and we were also delighted to secure a grant from The Blagrave Trust towards developing our voice work with young people. We are continuing to work hard to find new funding partners, and later this year we will be launching a new fundraising campaign, led by young people with SEND, which we will ask you to share, to help support this work going forwards.
Rachel (Amaze CEO)