Our CEO Rachel Travers rounds up all the latest Amaze news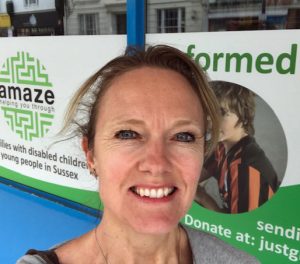 Incredible as it seems, as I write this update, we have just marked the 115th day of being in lockdown. As many of us now plan for 'coming out of lockdown' we know lots of SEND families remain fearful for their, or their child's safety, and are worrying how they will cope over the summer with possibly even less structure, and fewer options, than before. Our latest newsletter aims to answer your most pressing questions about summer childcare, getting out and about, the return to school, therapies, SEND guidance and more. And if you are seeking specific advice or support please do visit the Covid pages on our website which are being regularly updated, or call the SENDIASS helpline.
At Amaze, we know how important it is to have trusted, impartial and up to date information, advice and support – or just a friendly voice at the end of the phone – so I'm pleased that, despite having many staff who are caring for their own disabled child at home, we have still been able to respond to over a thousand calls or emails to the SENDIASS helpline since lockdown began. Our wonderful volunteers have also managed to reach out and proactively call an additional 150 families who we identified as potentially being the most isolated or vulnerable at this time. Our teams have been getting creative online too – developing detailed SEND-specific Covid-19 resources and delivering a range of 35 virtual events during lockdown (including our Dad's Groups, Breakfast Club, COP coffee mornings, arts & crafts and quizzes, etc.). We have also been able to provide extra support over the phone to those who are not comfortable online.
Amaze has also been busy working alongside the parent carer forums (PaCC and ESPCF) to support the local councils, schools and health services to think through, tailor and prioritise their SEND-specific responses to the coronavirus crisis. We have focused a lot on education and ensuring families were involved in their child's risk assessment about returning to school (with both PaCC and ESPCF issuing information on this). Most recently we have written to MPs and senior local leaders about the need to warmly welcome children back to school, work with their parents to develop individualised transition plans and prioritise their mental health and wellbeing needs.
We know many families are also asking for more social care (especially respite) input, particularly with the summer break looming. You can get ideas of what to do in our feature about 2020 summer activities and schemes.  We remain active members of the national Disabled Children's Partnership where, last month, I joined a meeting with Minister Vicky Ford, to ask the government for urgent, additional investment in short breaks across the country. I have worked closely with PaCC and Brighton & Hove City Council to look at how the number of activities over the summer can be increased and we are finalising plans to have some dedicated spaces in parks for SEND children. We will share news on this as we get it.
I know some children and young people are feeling more anxious than before about going back out in their local community, so it's great to see some of our Amazing Futures young people supporting each other to go to their local park. Looks like they are having a great time!
Whatever your plans for the coming weeks, I hope you manage to find someone who can help so you have a bit of time off to yourself, no matter how short.
Rachel