Rachel's round-up – Feb 22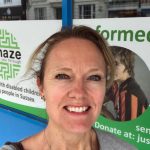 Welcome to my February round-up of Amaze news and other information we hope you will find helpful.
We continue to see a high rate of Covid infections across Sussex, with many parent carers and their children affected, including in the Amaze team. I hope you are managing to avoid it and wish you speedy recoveries if not.
We respect that the decision whether or not to have the Covid vaccines is a personal one, but Amaze and the three parent carer forums have been asked to help the NHS better understand any possible barriers you may face accessing a vaccination due to disability or additional needs. This short survey is for parent carers who have been unable to get a Covid-19 vaccination for themselves or a family member due to issues related to being disabled or having additional needs. Two further surveys will follow, including one for those who have chosen not to have a vaccination. Take our vaccination survey.  
Health and wellbeing
As it's Children's Mental Health Week, it's timely to update you on the work of Foundations for our Future (FFoF), the Sussex-wide programme aiming to drive improvement in children and young people's mental health services. Amaze and the parent carer forums – PaCC, ESPCF and WSPCF – attend meetings to plan implementation of the project's 20 recommendations and strategic developments. Young people in Amazing Futures have also been involved. Read more about Foundations for our Future.
We know that children and young people's mental health can have a big impact on their school attendance, so we've put together a detailed list of tips to help families who are struggling with getting their kids to go to school: My child won't go to school – what can I do?  
Connecting with other people in the same boat can have hugely beneficial effects on mental health and wellbeing, so please do check out our regular parent carer groups and Amazing Futures groups for young people. And there's a brand new group for parent carers in Eastbourne called Cuppa, Cake and Chat. 
Also, as we've still some way to go until spring, please take a moment to focus on your health and Stay Well This Winter!
Money matters
The news of the expected hikes in energy prices couldn't come at a worse time for many families with disabled children, many of whom are already living on the edge of, or in, poverty. We know many parent carers have to stop work or work fewer hours in order to take care of their disabled children, and it costs more to bring up a child with additional needs. But it's still shocking to read the new report from parent campaign group, Let Us Learn Too, which says many families with disabled children are spending huge amounts of their savings paying, and fighting for, the support which they are entitled to in order to live a good quality of life. This includes things like physiotherapy, medical equipment, and assessments.  
 Key statistics from the survey include:   
40% of families with disabled children have seen their savings wiped out fighting and paying for support
one in three families with disabled children said they needed essential therapies for their disabled child – but could not afford them
60% of families with disabled children have sought NHS mental health support for a family member due to the stresses of fighting for basic services
Parents are often making impossible choices about what they can afford for their children. If you are really struggling this winter, you might be eligible to apply for help from the Household Support Fund though the scheme closes soon. Visit Household Support Fund – East Sussex County Council or Household Support Fund – Brighton & Hove City Council for more information. For details of food banks across your area see: Accessing emergency food parcels (Brighton and Hove Food Partnership) for Brighton and Hove, or Sussex Community Development Association for East Sussex. In East Sussex, Amaze can also refer you.
Many more families are having to claim benefits to make ends meet, but this can often be an incredibly challenging extra task when you are already feeling overwhelmed and exhausted. Our DLA/PIP project has never been busier, helping parents and young people make successful claims. Unfortunately, we simply can't help everyone who needs it, and our short term Covid funding to support families in East Sussex is running out in March. We have a wealth of advice and information to help you with your benefits claims available free on our website, so if you can, please consider checking out our benefits fact sheets to see if they have the info you need.
As an active member of the Disabled Children's Partnership (DCP), Amaze has been supporting the national lobbying to increase central government investment in services and support to disabled children and their families. So we were pleased that the Department for Education finally announced some additional funding to help. This includes doubling the capacity of the Supported Internship programme  for students who have an education, health and care plan (£18 million over three years); setting up more than 10,000 additional respite placements (£30 million for the next three years); and £45 million in targeted programmes to: 
improve monitoring, support and intervention for the delivery of statutory SEND services by local authorities and local health and care partners, with a focus on underperforming areas and sharing best practice

 

improve participation and access for parents and young people for high quality advice and support

 

directly support schools and colleges to effectively work with pupils with SEND, for example through training on specific needs like autism

 
Of course, this is a drop in the ocean of what's actually needed, but we will continue to push for more. Amaze also continues to work with Brighton & Hove's Parent Carers' Council and East Sussex Parent Carer Forum to ensure our local statutory partners understand the extremely difficult financial circumstances many of our families are experiencing, and to highlight the need to protect any additional, as well as existing, budgets for supporting disabled children across Sussex.
The Compass
Finally, we are incredibly sad to share that Amaze will no longer be managing the Compass Disability Register for West Sussex, and the Compass Card discounts and offers for families in West Sussex will end as of 31 March. The Brighton & Hove Compass Card scheme (and all its offers) remains unaffected.
West Sussex County Council are looking at what other incentives might be offered to families to join the new register which is going to be run by their Libraries Service. This means Amaze will no longer be delivering any services in West Sussex. We will continue to seek opportunities and hope to be back there at some point, but in the meantime, our energies will be even more focused on supporting families in Brighton and Hove and East Sussex! For more see information see Compass Card West Sussex FAQs<
That's it from me – I hope you enjoy half term!
Rachel