Amaze produces a range of publications that are designed to give parent carers and young people the information they need, when they need it, in a variety of formats to suit their preferred way of reading.
Out of Amaze Newsletter
Our newsletter, Out of Amaze, is distributed once a school term and allows us to keep parents up to date with all the latest news, events and opportunities for families of children with special educational needs and disabilities in Sussex. Download the latest or past editions of our newsletter.
Factsheets
Our fact sheets are handy downloadable documents about specific conditions such as autism, ADHD and Down's syndrome and specific issues such as bullying, claiming DLA or choosing a school. Download our fact sheets.
Handbooks and guides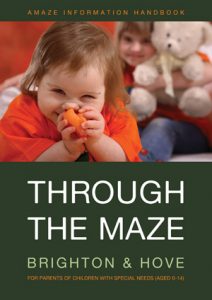 Our handbooks, Through the Maze and Through the Next Maze, are detailed guides to the journey parents may face as their child moves through health services, education, benefits systems, social care, growing up and much more. The handbooks were produced for families in Brighton and Hove and are available free to families who live in Brighton and Hove or whose children attend school or college in Brighton & Hove.
If you live elsewhere, you may still find some of the information useful. If you'd like to read the book for free, you can download information from our handbooks, chapter by chapter here. We also produce a guide to transition to adulthood for young people in Year 9.
Otherwise visit our info & advice sections for parent carers and young people
Literature about Amaze
If you would like information leaflets about Amaze's services and business, you can download Amaze literature here.
Sign up to our newsletter