What's Out There? for people with learning disabilities or autism in Brighton & Hove
Event info: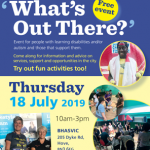 Come along to the biggest free event in the city for people with learning disabilities or autism to find out more about the services and opportunities available.
Throughout the day, there will be a range of more than 40 information stands where you can find out about local housing, money, health and support services.
This year, Amaze's Looking Forward career support team will be there, running a Working and Learning area. This is a chance for 14-25 year olds to talk to trainers and employers and try out fun activities.
You can also try out activities at the event including:
• Arts and crafts
• Badminton
• Capoeira
• New age kurling
• Hula hooping
• Boccia
• Funkfit
Lunch is not provided but soft drinks will be. You are welcome to bring your lunch to eat on the day, indoor and outdoor space is available for eating.
The venue is wheelchair accessible and a sound loop is available.
How to book
No need to book, just turn up. For advice on specific access requirements, please email WhatsOutThere@brighton-hove.gov.uk or call 01273 295550.