Training for Amazing Futures peer support volunteers
Event info: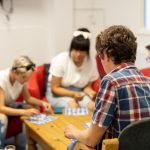 We're looking for more young people to join our friendly teams of volunteer peer supporters.
We're recruiting for volunteers for both our Brighton and East Sussex peer support activity groups.
About you
You must be aged 18-25 and either have additional needs yourself, or have had experiences that help you understand what it's like to have additional needs.
What peer supporters do
Our peer supporters come along to the groups and support other young people aged 14+ with special educational needs and disabilities.
There is more information on our website about what's involved, including a short video of some current volunteers:
More about volunteering as a peer supporter
Training
We provide training to help you learn how to support other young people.
Our next training course for new volunteers in Brighton & Hove starts 7th June and will run on Tuesdays for four weeks, 4.30 to 6.30pm, at Community Base.
Our next training courses for new volunteers in Eastbourne and Bexhill will run in June and July. Get in touch for dates and times.
How to book
If you're interested in being a peer supporter or have any questions, please get in touch:
Brighton: Call/text Sue Winter on 07483 111648 or email sue@amazesussex.org.uk
East Sussex: Call/text Claire Piper on 07484 915038 or email claire@amazesussex.org.uk