Oska Bright Film Festival 2017
Event info: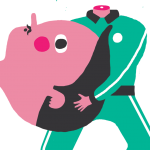 Tickets are now on sale for the 8th Oska Bright Film Festival, presented by Carousel and JunkTV.
The Oska Bright Film Festival is the leading international festival of films made by, or featuring, people with learning disabilities. It is produced, managed and presented by a learning disabled team.
Their special events include Q&A's with directors and film makers, a glitzy awards ceremony and an art installation, and this year there is a new LGBTQ+ strand.
Take a look at their programme for more information.
How to book
Tickets to individual screenings are £5 or you can get a Festival Pass for £30.
Tickets can be purchased from the Old Market box office – buy online from their website, call 01273 201 801 or visit in person at Upper Market Street, Hove.