Online Comedy Spectacular BIG CHEER UP for Amaze!
Event info: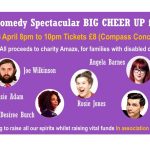 BIG CHEER UP for Amaze! Live interactive comedy fundraiser for charity Amaze Sussex.
ABOUT THE SHOW:
Age recommendation 14+
Please come and enjoy this evening to raise all our spirits whilst raising vital funds.
We all need a laugh after an incredibly challenging year, so join us for an incredible evening of online comedy, featuring some of the best names currently on the scene.
All proceeds will go to Amaze, a charity working with children and young people with special educational needs and disabilities and their families. Lockdown has been particularly tough for this community, with many needing to isolate for a whole year, many not getting the support or respite that they depend on, and many experiencing worsening mental health.
Standard ticket price per household is £8, but this includes £1.14 booking fee, which goes to Eventbrite . Concession price for Amaze Compass Card Families is £6 (please see the email invitation in the Compass E-bulletin. If you have missed this, you can email nickyb@amazesussex.org.uk).
As this is a charity gig, additional donations will be gratefully accepted when you book your ticket or throughout the night here https://www.justgiving.com/amaze/donate. On booking, you get a conformation email. A link to join us in the Zoom Room will be shared on the 23rd of April by email.
Sincere thanks to our favourite acts below, taking part in the BIG CHEER UP for Amaze!
Angela Barnes Host and Patron of Amaze. TV favourite Angela is a regular face on Mock The Week, Live At The Apollo and 8 Out Of 10 Cats Does Countdown, as well as appearing on the iconic BBC Radio 4 show The News Quiz and her own hit series 'You Can't Take It With You'. Angela is also the only guest to have won every episode of Richard Osman's 'House of Games'!
Joe Wilkinson is also a Patron of Amaze. As one of the nation's best-loved comedians, his distinct style and unusual wit has made him the star of 8 Out of 10 Cats (Channel 4) and its spin-offs: Cats does Countdown and Cats does Deal or No Deal. Joe has also appeared in numerous comedy series such as: BBC Three's hit sitcom Him and Her as series regular Dan; the hugely popular Miranda (BBC One) as Norman, Derek (Channel 4); Moominvalley (Sky), Sex Education (Netflix) as Jeffrey and as Postman Pat in Afterlife (Netflix).
Maisie Adam is a comedian from Yorkshire, her anecdotal material and witty charm have quickly won her praise up and down the country and she has appeared on Mock the Week, Have I Got News for You, QI, Roast Battle, 8 Out of 10 Cats, Hypothetical and The Stand-Up Sketch Show.
Desiree Burch is a comedian, writer, solo performer, actor and NY-to-London transplant. She has been seen on 'Frankie Boyle's American Autopsy'(BBC), '8 Out of 10 Cats' (Channel 4) and 'Before the Morning After' (NBC/SeeSo). She's been heard as the voice of Pamela Winchell on #1 international hit podcast 'Welcome to Night Vale', as well as on podcasts like 'The Guilty Feminist', 'Made of Human', 'Dumb White Guy', 'Friends Like Us' and 'Writing Excuses'.
Rosie Jones with her infectious laugh and high energy, has quickly become a must-see act on the UK comedy circuit. Rosie has starred in Live At The Apollo, The Jonathan Ross Show, 8 Out Of 10 Cats, 8 Out Of 10 Cats Does Countdown, The Last Leg, Rosie Jones Tries To Help, Live From The Comedy Store, Joe Lycett's Got Your Back, Comedy Central UK's Roast Battle, Mock The Week and Hypothetical.
Russell Kane multi-award-winning comedian, made history as the first comedian to win both the Edinburgh Comedy Award and Melbourne Comedy Festival's Barry Award in one year, and has since gone on to storm the comedy world with appearances on Live At The Apollo, 8 Out Of 10 Cats, Celebrity Juice and I'm A Celebrity… Get Me Out of Here Now! He is the host of the flagship BBC Sounds podcast 'Evil Genius', and he continues to keep the nation entertained with his ever-popular topical online "Kaneings".
Mark Watson Edinburgh Festival Award Winner and Time Out Critic's Choice, TV credits include Qi (BBC2) Taskmaster (Dave) and Bear Grylls' Celebrity Island (Channel 4). Mark has been the face of shows such as BBC Four's We Need Answers and BBC Radio 4's Mark Watson Makes The World Substantially Better. He has also appeared on Mock The Week, Celebrity Pointless, Have I Got News For You, Would I Lie To You?, Live At The Apollo and Channel 4's Comedy Gala.
Another date for your diaries: The BIG CHEER for Amaze! is an established night of stand-up comedy at Komedia Brighton. Please save the date of Thursday 14 October 2021 for our next live show in a venue!
More about Amaze
Amaze helps children and young people with special educational needs and disabilities and their families to tackle problems such as poverty, exclusion at school, social isolation, physical and mental ill-health, poor housing and stress/anxiety, by providing high quality and impartial information, advice and support. Thank you for your support.
Amaze, Community Base, 113 Queens Road, Brighton, BN1 3XG
fundraising@amazesussex.org.uk
Fundraising: 01273 234014
Helpline: 01273 772289
Registered Charity No 1078094
About NextUp Comedy
NextUp's mission is to amplify the power of comedy whilst supporting comedians and the wider comedy community. They primarily do this through their subscription-video-on-demand platform dubbed 'The Netflix of UK stand-up' by Engadget. But since COVID-19, they've also run the following initiatives: a Just Giving fundraising campaign raising £120,000 to financially support comedians who need it most; a live-streaming service called NextUp Now, that gives comedians a virtual live-streaming stage to perform and earn revenue from; and ticketed live gigs via Zoom (like this one). They are generously facilitating this gig for free to support Amaze. Thank you NextUp Comedy.