Join the Union – Amaze's new group for young autistic people in East Sussex
Event info: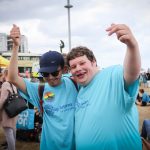 Make friends, have fun and be yourself.
Our Amazing Futures project is launching a new community group for 14-25 year olds with ASC in East Sussex – the Young Autistic Union (YAU).
The Young Autistic Union is all about empowering young people with autism to have a voice and an active role as an expert on your own life.
The group will meet regularly at The Pelham in Bexhill and will include discussion groups, cooking, art workshops, music, games, life skills, information sessions and snacks!
Download our flyer about the Young Autistic Union [2mb]
How to book
To find out more and register your interest, email: claire@amazesussex.org.uk or call 07484 915038.