Insiders' Guide for parents of children with ADHD
Event info: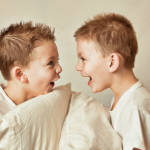 Run over six mornings (not in the February half term week), this free course is designed to help with the practical and emotional challenges of parenting a child with ADHD aged 6-16 years' old.
The course will cover things like understanding ADHD, practical ideas to help at home, school issues and tips to handle tricky meetings, survival strategies and more. It will be a chance to get together with other parents with similar experiences.
How to book
Call Amaze on 01273 772289 or email info@amazebrighton.org.uk