Hangleton and Knoll parent carer coffee morning – "Extended Day Services for SEND children & AGM" [Brighton]
Event info: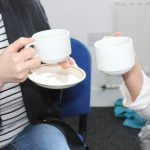 Come and meet families in a similar situation at our coffee morning.
We will be holding our Annual General Meeting towards the end of the coffee morning. If you are interested in being on the Parent/Carer Group Committee, please contact carmel.odell@hkproject.org.uk
9.30 – 10am
Time for a cuppa and a chat with other parent carers
10 – 11am
Find out more about the extended days services that Downs View and Hill Park school hubs are in the process of setting up. We are keen to listen to any of your ideas and suggestions.
11 – 11.30am
Any questions and clearing up.