Hangleton and Knoll parent carer coffee morning – "EHC plan annual reviews"
Event info: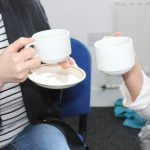 Do you have a child with a disability, health problem or who is having difficulties at school? Come along to our free Hangleton and Knoll parent carer coffee morning, open to all parent carers of children with additional and support needs.
9.30 – 10am: Time for a cuppa and chat with other parent carers
10 – 11am:  "Education, health and care (EHC) plan annual reviews"
Does your child have an EHC plan? This workshop delivered by Amaze will help you understand the annual review process, prepare for your next annual review meeting, and understand what should happen during the meeting and what to expect afterwards. It will also help you ensure your child's plan is fit for purpose
11 – 11.30am: Time for questions
NB – Please aim to arrive by 9.30am so that you don't miss any important information.
See our flier for more info [336kb]
How to book
The sessions are free. If you'd like to know more about the group, call Louise on 01273 905549 / 07990728830 or Rhianydd on 01273 733126 / 07897533007