FREE Compass Summer Fun Day – West Sussex
Event info: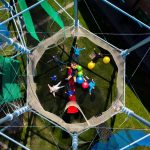 FREE evening of amazing accessible activities for West Sussex Compass Card holders at Out of Bounds
Due to an overwhelming response ticket sales are currently on hold to allow time for parent carers and young people to renew their Compass Cards. Bookings will reopen on Monday 9 August for those families who have renewed since Thursday 8 July.
Join the Compass team for the first FREE Compass Fun Day since Covid-19 hit. This event is for children and young people, aged up to 18, who are registered on the West Sussex Compass Disability Register. Although the event is open to all West Sussex Compass Card holders up to the age of 18, in line with funding guidelines, priority will be given to young people aged 14 to 18. This is a family event so parent carers must stay.
What to expect?
The event will run from 6 to 9pm, although you can show up at any point during the three hour slot.
There will be five activities on offer throughout the event; Adventure Nets, Adventure Golf (fully accessible to all), Foot Golf, Bowling (fully accessible to all) and Soft Play (suitable for younger children at the start of their SEND journey and younger siblings). All activities will be available throughout the event and can be used as often and as many times as you like.
Out of Bounds staff will be on hand to manage each activity at all times and members of the Compass team will be attending to provide support to families where needed.
There will be squash available for children and young people and Out of Bounds will offer meals from their menu at a discounted rate of 25% off.
Points to note! There is plenty of free on-site parking immediately outside the venue.
There are accessible toilets, although please note there are no hoist assisted facilities available. Two bowling lanes will be reserved for use by wheelchair users and their families.
How to book?
We have 450 tickets to give away, 300 for kids and 150 for parent carers. Select the number of tickets you want when you book. You will be asked to give us details about your Compass Card, the cardholder and other members of your family during the booking process. You will also need to enter the code FUNDAY21 to complete your booking – this helps us to prevent spam and bots.
Bookings will close at 5pm on Monday 16 August or earlier if we reach capacity.
NB: If you no longer need your tickets, please cancel via Eventbrite or let us know that you are not coming via marie@amazesussex.org.uk so that we can give the tickets to another family.