Amazingly Active peer coach training [East Sussex]
Event info: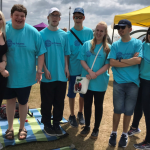 Do you want to be part of a lively and active youth project in your community?
Why not join the Amazingly Active team in Eastbourne and help support young people with additional needs to have fun keeping active and healthy.
Come to the free training sessions to learn coaching techniques, teamwork skills, professional boundaries, and how to exercise safely.
All peer coaches must be aged 17 to 25, and either have additional needs, or have had experiences that help them understand what it's like to have additional needs.
The training is planned to begin on 24th February and run weekly for four weeks. However, these dates may change, depending on bookings.
How to book
If you're interested in becoming a peer coach, get in touch with Claire on 07484 915038 or email claire@amazesussex.org.uk.