Amazing Futures Eastbourne – fun, games and picnic in Princes Park
Event info: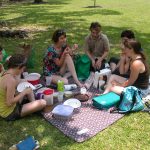 Our Amazing Futures Eastbourne project for young people aged 14-25 with SEND is having a group walk in Princes Park this half term.
We'll have a picnic or a café visit and there'll be games, fun activities, and hopefully some nice weather!
We'll be meeting in front of the Princes Park Café, near Crumbles Pond. The Wave 99 bus goes along The Royal Parade and the nearest bus stop is Desmond Road.
How to book
If you would like to come, please email Claire@amazesussex.org.uk or ring 07484 915038.
If you haven't attended an Amazing Futures Eastbourne session before, please fill in the registration form here [.doc 275kb]