Amazing Futures new LGBTQIAU peer support group [Brighton]
Event info: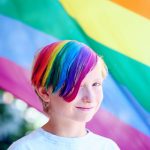 Amazing Futures is starting a new peer support group in Brighton & Hove for young people with additional needs who are LGBTQIAU (LGBTQ+ for short).
The group will be a friendly, confidential space where you can talk with other young people who understand what it's like.
LGBTQIAU stands for:
L – lesbian
G – gay
B – bisexual
T – trans / transgender
Q – queer / questioning
I – intersex
A – asexual
U – undecided / unsure
Sometimes you will see LGBTQIAU shortened to LGBT or LGBTQ+.
It's okay if you aren't sure about your gender or sexuality, you don't have to have it all figured out to come along. If you're not sure if the group's for you, get in touch.
The group will be small and socially-distanced, in line with government guidelines due to Covid-19.
How to book
The group is for young people who:
are aged 14 to 25
have special educational needs or disabilities
are LGBTQIAU or are unsure about your gender or sexuality
We have limited spaces so if you're interested in coming along please contact Sue at sue@amazesussex.org.uk or 07483 111 648.