Amazing Futures – Jobcentre life skills sessions [East Sussex]
Event info: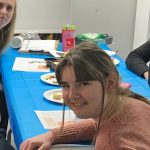 Our Amazing Futures East Sussex team has paired up with Eastbourne Jobcentre Plus to offer a series of free life skills workshops.
This month we will be discussing volunteering. Learn about the benefits of volunteering, what volunteering opportunities are available, and how to find them.
Find out more about our Amazing Futures groups in East Sussex and Brighton and Hove or check out our events listing to find upcoming sessions.
How to book
Call Claire on 07484915038 to book your free spot, or email claire@amazesussex.org.uk.