Amazing Futures: help create food bank bags [East Sussex]
Event info: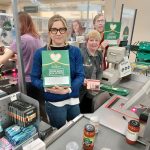 We're looking for volunteers to help create food bank bags for Morrison's supermarket in Eastbourne.
This is a great opportunity for young people with SEND to learn useful skills and have fun at the same time!
learn useful workplace skills like how to use a till
be part of a friendly team
give back to your community
have fun
Learn more about what's involved in our accessible booklet: Morrison's food bank volunteering booklet [pdf 3mb]
We meet every Tuesday from 11.30am to 1pm.
How to book
If you're interested in volunteering or have questions, please contact Claire on 07484 915038 or email claire@amazesussex.org.uk