Amazing Futures (East Sussex) – Peer Supporter Training Session
Event info: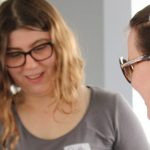 Our first Amazing Futures East Sussex Peer supporter training session for young peopled aged 18-25 who would like to volunteer to support other young people with special educational needs and disabilities. Read more about Amazing Futures Peer Support in Brighton & Hove.
The free training takes place in Eastbourne and is open to any young person aged 18-25.
For more information, contact Claire Piper, Amazing Futures Coordinator for East Sussex, on 07484 915038 or email claire@amazesussex.org.uk