Amazing Futures East Sussex – music workshop
Event info: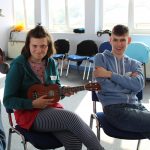 Our Amazing Futures peer support activity group in Eastbourne is offering a free music workshop for young people aged 14 to 25 with additional needs.
The workshop is a taster session from East Sussex Music. If you enjoy the session you may be interested in their free inclusive music group.
The workshop will be run by Rhia Parker, who plays recorder, ukulele, and sings. Music workshop leaders Jenny Benwell and James Cruttenden will be assisting her.
Come along if you'd like to have fun and make music together in a friendly relaxed environment.
How to book
The workshop is free. If you'd like to come along, or have any questions, call Claire Piper on 07484 915038 or email claire@amazesussex.org.uk