Amazing Futures East Sussex launch – "A-maze" boardgames and pizza
Event info: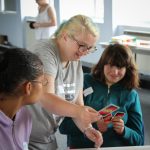 We are now running a free Amazing Futures peer support group in East Sussex, as well as the groups in Brighton & Hove.  The group is for young people aged 14 to 25 with additional needs, and will meet in Eastbourne.
Our "A-maze" session will offer the chance to try out different card games and boardgames and eat pizza. You are welcome to bring your own game. It's also a great opportunity to make friends and talk to people about what's going on with you.
We have some more fun events coming up as part of the Amazing Futures East Sussex launch:
"Amazingly Creative Futures", where you can try your hand at different art activities like printmaking and illustration.
A festive Christmas workshop, where you can make your own creative festive gifts.
How to book
The group is free. If you'd like to come along, or have any questions, call Claire Piper on 07484 915038 or email claire@amazesussex.org.uk