Amazing Futures East Sussex – young people's peer support group – free circus skills workshop
Event info: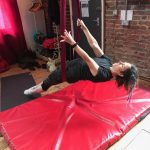 Amaze's Amazing Futures project is hosting a free circus skills session for young people with SEND.
The workshop will be led by Miz Wells from Sweet Circus, so come along and learn some exciting circus techniques!
The group sessions have fun games and activities, and are an opportunity for everyone to get to know each other and have fun.
We also run Amazing Futures groups for young people in Brighton & Hove.
Check out our events listing to find upcoming sessions.
How to book
Contact Claire Piper on 07484 915038 or email claire@amazesussex.org.uk if you are interested in coming to the next session or would like to volunteer as a peer supporter.
Alternatively, you can call the helpline on 01273 772289. Places are free, but booking is essential, as places are limited. If it's your first session, you will need to register.
Find out more about the groups and download a registration form here.