Amazing Futures (East Sussex) – new ASC group planning meeting
Event info: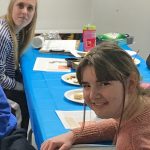 Come and have your say on a new group for young people with autism in Eastbourne. It will be a friendly and interesting event where we would like to find out your thoughts on how to develop a group for young people with ASC (Autism Spectrum Condition) that young people will co-design and co-deliver.
You'll get the chance to have your say, help design the project and plan the sessions.
Refreshments and pizza will be provided.
How to book
If you'd like to come along, or have any questions, call Claire Piper on 07484 915038 or email claire@amazesussex.org.uk.