Amazing Futures East Sussex and Brighton & Hove picnic at Disability Pride
Event info: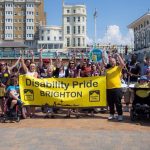 Disability Pride is an annual celebration of and for people of all disabilities, held at Hove Lawn. Our Amazing Futures project for young people aged 14-25 with SEND is holding a picnic at the event, along with an exhibition of young people's self-portraits.
You'll spot Sue and Claire from the Amazing Futures project, along with other familiar faces at Hove Lawns near the Peace Statue from 12pm.
If you're interested in coming to the picnic, contact Sue on 07483 111648 or sue@amazesussex.org.uk (Brighton & Hove) or Claire on 07484 915038 or claire@amazesussex.org.uk (East Sussex).  Claire will be accompanying Amazing Futures young people from Eastbourne train station to Disability Pride. Contact Claire directly to find out more.
Find out more about Disability Pride here.