Amazing Futures creative project with MyMarc Art Project and Phoenix Brighton (1 of 2)
Event info: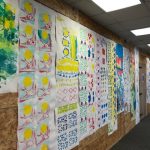 Do you like doing art? Amazing Futures Brighton has a great opportunity for young people to get involved in a creative project.
We are working with Mymarc Art Project and Phoenix Brighton.
We will be visiting the Phoenix on Thursday 12 March from 4.30-6.30pm to see the Rocket Artists 'Work in Progress'
The Rockets believe all people should have access to the arts and that it is valuable for artists of all abilities to make work together.
 On Tuesday 14 April there will be a Young People's Creative Day at the Phoenix with an exhibition in the early evening.
How to book
Are you aged between 14-25 years with additional needs and live in Brighton & Hove? If you would like to get involved in the Amazing Futures Creative Group, please contact sue@amazesussex.org.uk or call Sue on 07483 111648.