Amazing Futures Brighton – fun, games and picnic in Preston Park
Event info: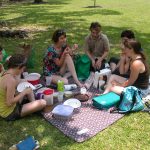 Our Amazing Futures Brighton project for young people aged 14-25 with SEND is having a picnic in Preston Park.
There'll be games and fun activities, and hopefully some nice weather!
We'll be meeting in front of the Chalet Café, in the middle of Preston Park.  A number 5 or 5A bus goes along Preston Road and the nearest bus stop is Rookery Close.
How to book
If you would like to come, please email Sue@amazesussex.org.uk or ring 07483 111648.
If you haven't attended an Amazing Futures Brighton session before, please fill in the registration form here [.doc 257kb]