Amazing 100m Water Slide
Event info: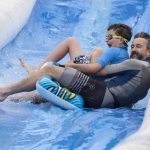 Due to popular demand, Amaze is bringing another daring, giant, 100 metre water slide to Brighton on Saturday 21st  July 2018.
This year Brighton's picturesque and centrally located Queens Park will host the slide. Imagine the thrill of a 100 metre waterslide down the length of the East Drive Clock Tower slope.  500 riders have the unique chance to book now to speed down the most fun, adrenaline-filled slide in the city on blow up cushions.  All proceeds will help local families with disabled children.
Riders aged 6 to 106 can book from 10am to 5pm. Tickets are available in batches of 2, price £15, plus a booking fee of 80p. This gives 2 rides in a designated time slot. The 2 rides do not have to be used by the same person. Children with additional needs can slide with a carer if necessary, carer goes for free.
I thought one go would be enough but I was wrong! It is a super slippery fast ride and a right laugh!
Not sure what to expect? Here is Nicola and Jack from Heart FM to show you how it was done last year: http://amazebrighton.org.uk/wp-content/uploads/2018/05/waterslide.mp4
We expect a high demand for tickets and cannot guarantee spaces on the day, so please book now to avoid disappointment via:
https://yotickets.com/event/5b16a9174276ca001ce666ff/Amaze-Brighton-2018
You can win tickets or extra tickets by liking and commenting on the pinned Amaze facebook post and please share it too https://www.facebook.com/AmazeBrighton/
Essential info
Queens Park, West Dr,  is easily accessible from central Brighton by foot, bus, or bike. Limited paid parking is available in the surrounding roads. The slide is suitable for disabled children and young people and the park is accessible. Book in set time slots. Come in appropriate clothes such as swimming costumes or shorts and t-shirts. The impressive slide is provided and run by a specialist reputable company and is fully insured.
With thanks to The Friends of Queens Park, Brighton & Hove City Council and East Sussex Fire & Rescue Service.
For more information contact Nicky B email: nickyb@amazebrighton.org.uk or Tel: 01273 234014.