Amaze Face 2 Face breakfast club – two year anniversary [Brighton]
Event info: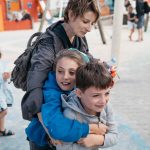 Amaze's Face 2 Face befriending scheme runs a monthly drop-in breakfast club in Brighton & Hove – this is a relaxed, informal catch up for parent carers, usually over coffee.
This month we're celebrating the breakfast club's two year anniversary, and we have some special guests: Darren, who runs the Dads Group, Sophie, a private occupational therapist, and Alisha, Miss Sussex Curve 2019, who is raising awareness of body image for Mental Health Awareness Week.
We will also be joined by Connor, who will be doing some filming for Amaze, to create a video about Face 2 Face.
How to book
No need to book a spot, just turn up any time from 9.30am onwards. For more information contact Louise at louise@amazesussex.org.uk.