Amaze Face 2 face breakfast club picnic – Brighton
Event info: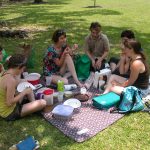 Amaze's Face 2 face befriending scheme runs a monthly drop-in breakfast club in Brighton & Hove – this is a relaxed, informal catch up for parent carers, usually over coffee.
This month we're taking advantage of the lovely weather to hold a picnic in Easthill Park, Portslade.
Feel free to bring your family. The park has a cafe and toilets.
How to book
No need to book a spot, just turn up. For more information contact Louise at louise@amazesussex.org.uk.