Amaze Face 2 Face breakfast club [Brighton]
Event info: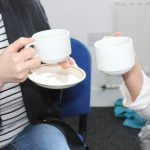 Amaze's Face 2 Face befriending scheme runs a monthly drop-in breakfast club in Brighton & Hove.
This is a relaxed, informal catch up for parent carers, usually over coffee.
It's a great opportunity to talk with other people who know what it's like.
How to book
No need to book a spot, just turn up any time from 9.30am onwards. For more information contact Louise at louise@amazesussex.org.uk.