Amaze AGM and Amazing Futures celebration event "Amazing Futures and Beyond"
Event info: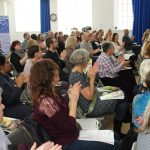 We'd like to invite you to the Amaze AGM, with a special Amazing Futures celebration event this year!
This informal, relaxed event will provide an opportunity to hear about Amaze's work in East Sussex, in particular the Amazing Futures project. The AGM is open to young people, parent carers and families, as well as to SEND professionals, local councillors, commissioners, and other interested parties.
There will be a presentation by the young people involved in the group, and time to find out more over a drink and a snack.
The agenda will then split, offering the 'formal' AGM business (including an overview of our activity, impact and financial accounts in 2018-19) or a festive creative activity with the young people.
How to book
It's free to attend, but please get in touch if you'd like to join us. Call us on 01273 772289 or email info@amazesussex.org.uk.