Brighton's next top model – how Audrey became a Christmas cover star
Many of you will have seen the gorgeous Audrey who regularly features on Amaze posters and literature. It seems we are not the only ones to spot her natural modelling talents. This Christmas, Audrey is starring in the seasonal campaign for online retail giant, Not on the High Street. We asked Audrey's mum Vicky to tell us how it all came about.
"Audrey was first asked to model for a couple of small local brands who saw her and thought she would make a good model (I couldn't have agreed more!).
"One of the brands – The Kindness Co-op – started to sell on Not on the High Street and Audrey's photograph was shared on their Instagram to promote the clothing. The response was wonderful. There were loads of comments about this beautiful girl, her lovely smile, her yellow glasses… and so, as they were casting for their Christmas catalogue, they thought of Audrey!
It goes without saying that Audrey's modelling means a lot to us, because seeing a face with Down syndrome on TV or in a magazine makes us feel really happy – to be represented.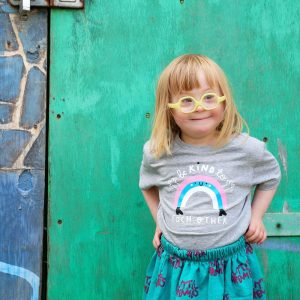 "Not on the High Street originally wanted the whole family for the catalogue photo shoot – we all travelled to London in July to pretend it was Christmas – but as it turned out, only Audrey made the cut! Then, not long after, they contacted us again to ask if she might be available to do some filming for their Christmas television campaign. I think they were impressed with how Audrey took direction – she really is a natural and enjoys herself – no diva tendencies! And so off we went in September to pretend it was Christmas again.
"Filming is a little more intense and repetitive than photography, but Audrey was a trooper. The team were fantastic and Audrey had a great time and came away with a new doll. The advert should be on Channel 4 throughout November and December – Not on the High Street are sponsoring festive entertainment on Channel 4. Or you can see the advert on Youtube here.
"Audrey has been signed by an agency (they approached us via Facebook), and she's already booked her first job – a photographic shoot for a well-known high street children's clothing store.
"It goes without saying that Audrey's modelling means a lot to us, because seeing a face with Down syndrome on TV or in a magazine makes us feel really happy – to be represented. Things have come a long way, but there's still further to go in terms of diversity and inclusion. It helps that she enjoys it and is good at it – her brother for example got very bored at the photo shoot and was unwilling to get change/pose on demand, so I will not be pursuing any more work for him!"
See Audrey sparkle on page 15/16 and page 77 of Not on the High Street's Christmas Gift Guide